I is for Impatience #AtoZChallenge @AprilA2Z
My theme for this year's Blogging from A to Z April Challenge is Feelings and Emotions from A to Z in 55 Words. Today, I  is for Impatience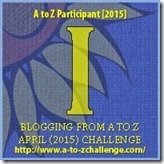 Inspired by Jack and the Beanstalk, she dug a patch and planted some seeds.
She sat there waiting for the seeds to sprout and grow up tall.
For a moment, nothing happened. Then, after a second or so, nothing continued to happen.
In a huff, she trampled the ground and nipped them in the bud.
Join me in enjoying blogs from fellow A to Zers… Inderpreet Kaur Uppal, Ina Tales today! Do share some blog love with them too!