J is for Jealousy #AtoZChallenge @AprilA2Z
My theme for this year's Blogging from A to Z April Challenge is Feelings and Emotions from A to Z in 55 Words. Today, J is for Jealousy.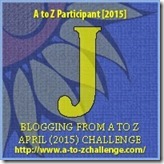 They look good together, his handsomeness complements her beauty.
Their comfort with each other is so obvious.
They share similar interests and laugh at the same jokes.
And the way they finish each other's sentences!
Oh, they truly belong together.
Aah! It's a bad word – 'belong.' Especially when you put it with somebody you love.
Join me in enjoying blogs from fellow A to Zers… Jyotsna Bhatia and Jenny Pearson today! Do share some blog love with them too!