H is for Hope #AtoZChallenge @AprilA2Z
My theme for this year's Blogging from A to Z April Challenge is Feelings and Emotions from A to Z in 55 Words. Today, H is for Hope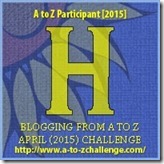 The mirror shows a vaguely familiar reflection.
The visible and the invisible scars stare back at her.
A lone tear escapes from somewhere.
The giggles of her children breaks her reverie
Seeing him dote on the children makes her forget the ugliness, once again.
Some day her love would tame the monster inside him, too.