G is for Guilt #AtoZChallenge @AprilA2Z
My theme for this year's Blogging from A to Z April Challenge is Feelings and Emotions from A to Z in 55 Words. Today, G is for Guilt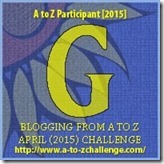 My feet are moving in rotating circles on the cold floor.
My legs are starting to give way. Unmindful of the pain, I continue to move with the same rhythm.
Dance is the language of my soul.
When I dance, I am not myself.
I am not scared… not suffocated… not sad…. and not guilty.
Join me in enjoying reading the blog from fellow A to Zer… G Angela today! Do share some blog love with her too! 🙂