Mr. Imperfect Series
Title: Mr. Imperfect Series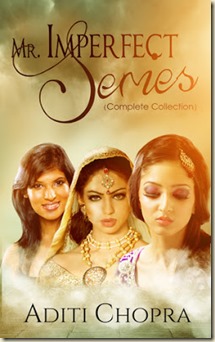 Author: Aditi Chopra
Publisher: CreateSpace Independent Publishing Platform
ISBN-10: 1503044610
Number of Pages: 190 (Estimated)
Price [INR] : 250
Genre: Fiction, Contemporary Romance
Type : eBook
Three intriguing women, Three Imperfect men, Three fascinating stories!

House of Love
Real estate agent Nikki Desai has a rule of not dating her clients. When she hosts an open house on a cold Dallas afternoon, she didn't know what was in store for her. Much like Dallas' unexpected weather, Karan Malhotra, a business consultant, walks into her life and challenges every belief she holds close to her heart. Karan manages to cajole Nikki, but is she making a mistake in breaking her rule by dating Karan?

Arranged Marriage
Arranged marriage – where love happens after marriage or does it? Ishan, a NRI from Dallas, Texas visits his home country, India and gets entangled in his parents' plan to get him married. Sonali is a simple girl from a small town called Meerut and has no desire to leave India. However, she reluctantly agrees to marry Ishan. But when she settles with him in a foreign country, she is completely lost and homesick. Will Sonali find love in a conventionally arranged marriage?

Love Tango
Maya Sarin is sensuous and enterprising. She runs a dance school in the suburb of Dallas. Tahir Ali is an aspiring author who owns a Mediterranean restaurant in the area. When his regular dancer bails out on him, he rushes in Maya as a replacement. Maya is the inspiration that he had been longing for; she feeds his creative soul. Do they have any future together? Explore their passion and intrigue in Love Tango.
Mr. Imperfect Series has three love stories based on Non-Resident Indians living in Dallas. Nikki, Sonali and Maya are strong, independent women who meet Karan, Ishan and Tahir respectively in three different stories namely House of Love, Arranged Marriage and Love Tango.
Nikki is a real estate agent, Sonali is still figuring out her destiny and Maya runs a dance school. The stories are connected by the lives of these women who come across their 'imperfect' partners from different walks of lives. These women have very distinct and unique identities. Their individualities influence their choices and their relationships too.
The three female leads have quite a few commonalties too. They are clear and forceful modern women yet rooted to the Indian traditions and value systems. They know that they have a few shortcomings and are willing to overlook the same in their men too. How they connect and how their relationships develop over a period of time is another highlight of the book.
I liked the glimpse of Dallas and Alaska that the author gave through this book. The insights into the running of a dance school, Mediterranean restaurant and real estate business are interesting. The characters, their conflicts, their decisions, emotions, actions and responses have been explored and captured well. My only grouse is that the stories got over too soon and may be they could have a bit more of sizzle.
The stories are  standalone ones and are independent of each other and can be read separately as well but all the three stories are inter-connected by characters, places and events.
With interesting plots and easy to read style of writing, Mr. Imperfect Series is a nice breezy read.
Rating : [usr 3 text="false" size=20]
This Tour is Hosted by
Facebook | Website | Blog Tours | Twitter | Pinterest | Linkedin