We Got Snail Mail
When the idea of writing letters via the snail mail to virtual friends was shared at BAR, I was quick to grab it. I know how amazing it is to write and receive letters. I used to exchange a lot of letters with cousins and friends when I was in school and college. In fact, had 2 pen friends too. Then, emails entered our lives and the joy of writing on inland letters or picture postcards was pushed back in the cold storage.
Since the last 4 years, these snail mails have entered our lives, once again. And that's because our son, Aaryan is in a boarding school and it is mandatory for us to exchange letters. So, we are back to reading and writing letters. Aah! The charm, fun, anticipation and excitement of writing and receiving letters.
To be a part of this excitement was something I could not miss, so I took up the Snail Mail Challenge at BAR, without a second thought!  Like the sorting hat at Hogwarts, we were randomly assigned friends to whom we had to write a letter. The recipient of the letter would know the sender only on the receipt of the letter! Yes, that would be like double bonanza for the recipient!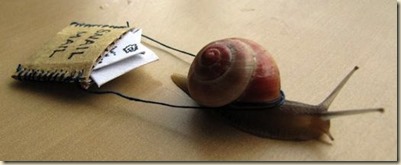 One bright sunny day, I received an Air Mail. It was from Eloquent Mind who lives in USA. Seeing a fat envelope, my heart did a happy dance! And it continued to dance and sing too as I opened and read the contents of her letter. There were 2 elements in the envelope. The first one was a long letter consisting of 5 pages written in a neat and beautiful handwriting!! I am sure, she would have got extra marks for good handwriting, at school! In this long missive, EM had shared about her life with family and friends in NJ. It made for a heart warming read. The second part had an instruction, "Please open after reading the letter!" and I did just that! The smile on my face after reading her letter had not dimmed and it brightened a shade more when I opened the second package. Smiling back at me were EM and her husband and their cute lil daughter which was followed by big smiles from their friends too. So, I am the lucky one, who not only knows EM's real name, but have met her family and friends too!
Now it was my turn to write a letter to a virtual friend. I wrote a letter to Sfurti Sinha! Writing to her was like doing the time travel. As I shared about our life and things we had in common, ( Yes, Mumbai is a link between us), my heart took me back in time, as visuals of love, life, friends, jobs, homes, places gone by flashed in front of my eyes. Writing a letter to Sfurti was a beautiful memory-prompt!
While receiving the letter from EM and writing to Sfurti was a lovely experience, checking whether Sfurti had received my letter was marked with anxiety and panic bouts.
Online tracking record of courier company was not updated and their customer care can be described as one the lousiest one! Sending subtle clues to Sfurti in our Facebook group to acknowledge the receipt of my letter did not work at all. I was getting all restless, and in that state, I sent her an email. And guess what, she did not respond to that too. Her silence clouded my mind with all kinds of weird thoughts, till I could not take it any more and asked Shailaja to check with her. Shailaja was finally able to put a stop to the whirlwind activity that was taking place in my head and shared that dear Sfurti was hospitalized as she had Dengue fever, and thus the delay in acknowledgement from her end! I sent a prayer upwards for her recovery and that I was finally at peace. Usually, the receiver of the letter is filled with anticipation, but here it was reverse anticipation!
After these letters, we connected online  and carried forward the conversations from our letters. In all, it was a great feel-happy experience! Thanks Shailaja for a fun challenge!
Do you like writing and receiving snail mail?
Image : Source