10 Tips for Solo Travel
Solo Travel is a life changing experience. And it is on the rise, these days. More and more people are backpacking to explore and enjoy a destination on their own terms – without any distraction and without matching their schedule with others. Solo travel not only gives you the time to reflect but also is a rewarding and a liberating experience.
For some, venturing out completely on their own can be intimidating. Worry not, with research and planning, you can have an experience like none other. Here's how to make the most of your solo travel trip…
Plan in advance : Do some advance planning. You don't need a detailed plan but you should know, for the first night at least, where you're going to stay. Book your hotel before you leave. Carry the essentials with you when you head out for the day. Have the name of the place you're staying on a piece of paper in the local language. Have a copy of your emergency contacts and your documents on you.
Pack light : Pack light so that you can manage your luggage by yourself with ease. One carry-on, a suitcase or backpack, should suffice whether you're out for one week or three. Also keep your most important items like ID proof/passport, wallet, camera and phone in the same place.
Watch the world around you : Take the time to observe how people interact, and how things work. While sitting at a sidewalk cafe, on a park bench, or just killing time you can learn how to use public transit, whether to pay your bill at your table or at the counter, how to tip or how to hail a cab and much more.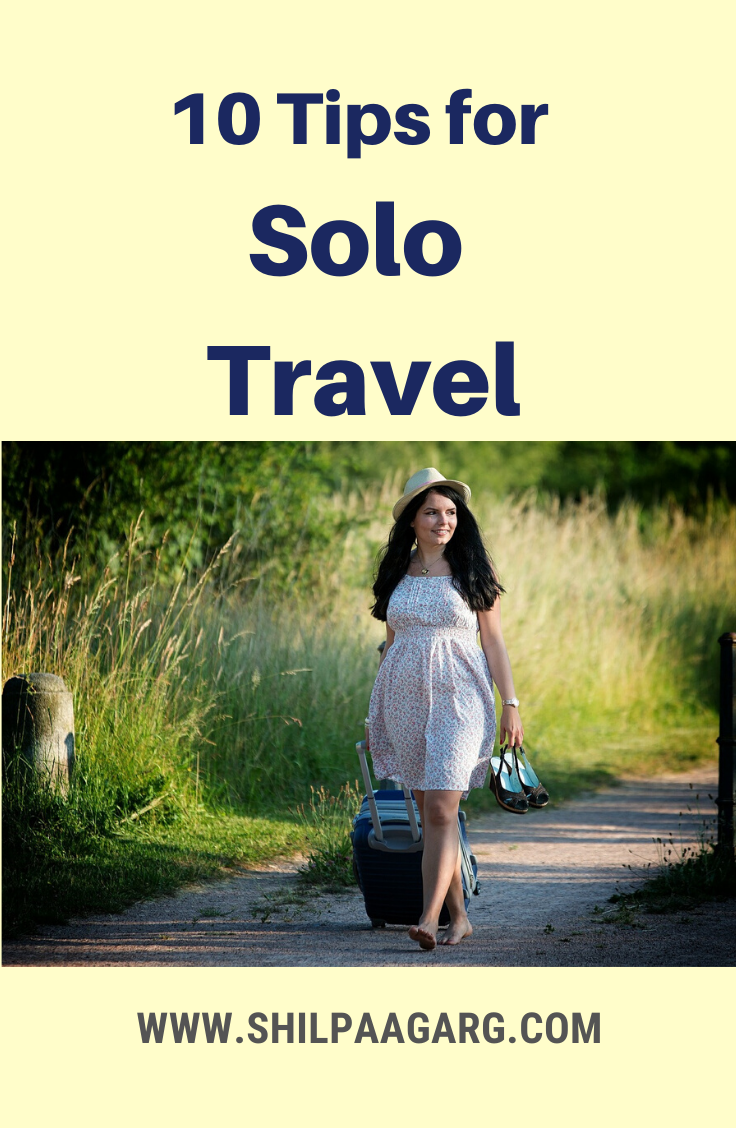 Open up! : Learn how to talk to strangers. Smile and start a conversation. Be curious and ask open-ended questions and follow-up questions. Connect with other travelers. The common rooms and lounges of hostels / hotels are great places to meet short-term friends as well as pick up excellent travel advice.
Go out and enjoy yourself : Enjoy dining alone. Ask a local to order for you. Go out in the evenings. Go to concerts and the theatre. It's all possible during a solo travel.
Get off the beaten track : If you want to meet other travelers, go off the beaten path. Travelers who find each other where there are few tourists are more inclined to talk to each other. Plus, you will likely have something in common.
Go on organised tours : Break up long trips with organized tours. You'll enjoy the company and a chance to let someone else take care of all the details.
Take your own photos : Learn to take your own photo. Your friends will be far more interested in your photos when you return if there are pictures of you amongst them.
Take advantage of useful apps on your phone : Download useful apps to your phone such as a GPS, a translator, a currency converter, some travel guides, online recharge and bill payment apps
Trust your instinct : Be aware of your surroundings and listen to your gut. If something doesn't seem right, leave.
Go on and empower yourself to do solo travel with confidence to discover yourself as you discover the world!
Adapted from The Solo Traveler's Handbook by Janice Waugh