The Second Coming
Title: The Second Coming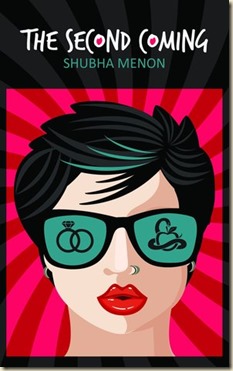 Author: Shubha Menon
Publisher: Harper Collins
ISBN: 978-93-5136-370-5
Number of Pages: 202
Price [INR] : 250
Genre: Fiction/Humour
Mini aka Mrinalini is creative, forty something career woman who plans fairy-tale marriages at Soul Mates, a wedding planning agency. While she planned dreamy, romantic weddings for the clients, she knew that romance in a marriage is an oxymoron. And that's proven by her marriage to fat slob 'Sicko' Shyam. She longs for a touch of romance in her life and hopes that one day her knight in shining armour, her Dream Lover – DL, would arrive and sweep her off her feat and make passionate, romantic, fervent love to her.
As she is caught in her daily romance-less, mundane life, she gets an opportunity to plan a 'no-budget' royal wedding of a prince and a starlet at Mumbai. Here, she meets Rustom, the handsome, sophisticated Greek God. With a diet plan in place along with gym, new haircut and a makeover, Mini makes plans to seduce him. Rustom responds and her dream comes true. But do they live happily ever after?
The Second Coming is chick lit with a large dose of humour and wit. It is a realistic take on the lives of working couples who after few years of marriage drift into a predictable monotonous routine. It talks about how beautiful romances are transmuted into dull marriages with relationships that are constricting and corrosive. Mini and Shyam's situation is not bad enough for them to want out, but is not good enough to bring any real joy. The book deals with adultery but also conveys the importance and need of this institution called marriage.
The characters are relatable and true to life. Mini is adorable and sweet. Her frequent dieting plans ending with Diet Swiss Ultra Creamy Delight chocolate or parantha or a cake is something that most of us can identify with. 'Sicko' Shyam though does not have an iota of romance in his over-sized body and snores too but is dependable and loving in his own way. Rustom, though is a suave, charming and sophisticated dream lover but is not perfect and has his failings. The story at times, rather a few instances were over the top and a bit clichéd, but that does not stop you from turning the pages one after the other with deep interest and attention.
The Second Coming is fun, breezy, quirky read which will make you laugh and smile as you keep turning the pages of the book. Go for it!
Rating : [usr 4 text="false" size=20]