My 2017 Book Reading Challenges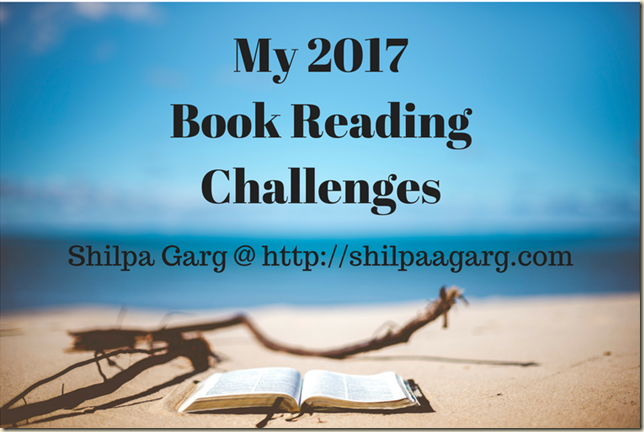 I have always been a bookworm. Of late, I would describe myself as an obsessed bookworm. I thoroughly enjoyed my book reading challenges last year. And this year in 2017, I'd like to challenge myself with some more challenging reading goals.
Now, you may ask, why should I be taking up these book challenges when I love reading so much. Well, the thing about reading is that even though you may be obsessed about it, it is easy to let it fall by the wayside. In the hustle and bustle of every day work, chores and life in general, suddenly you realize that it's been days since you picked up a book.
And for this you certainly need book reading challenges.
When you pick up reading challenges, you are consciously deciding to read and when you do that, you will certainly find time to read no matter what. Also reading challenges broaden your scope of reading as you get to explore a whole lot of books. From diverse genres and topics to variety of authors, from different characters in every book to distinct settings, from short tales to really long ones, from classics to contemporary stories, from fiction to non-fiction, from memoirs and biographies to banned and challenged books, from books in various formats to books outside your comfort zone, reading challenges prompt to read all these and much more. Another interesting aspect of taking up reading challenges is that it makes your reading list so lively. And the fun of finding books for the various prompts and then the joy of ticking off the books in your planning sheets. Aah! It's simply exhilarating.
This year, I am going to explore and soak in the amazing world of books by taking up the following reading challenges…
1. Goodreads :
Shilpa
has
read 3 books toward
her goal of
125 books.
2. HT Brunch Book Challenge : This is easy peasy. The challenge is to complete at least 36 books by December 31st, with at least six books by Indian authors, or those centred on India.
3. 2017 Pop Sugar Reading Challenge : I loved doing this challenge last year and this year there are 40 book prompts to help diversify PLUS an "advanced" section with 12 books for hardcore readers.

4. The 2017 Audiobook Challenge : Last year, I explored reading with my ears and I loved the experience. Last year, I attempted the Newbie level and this year, I'd try to be a Weekend Warrior.
Levels for The 2017 Audiobook Challenge are :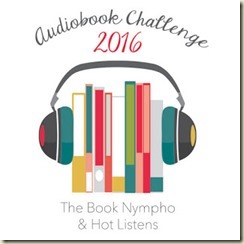 Newbie (I'll give it a try) 1-5
Weekend Warrior (I'm getting the hang of this) 5-10
Stenographer (can listen while multi-tasking) 10-15
Socially Awkward (Don't talk to me) 15-20
Binge Listener (Why read when someone can do it for you) 20-30
My Precious (I had my earbuds surgically implanted) 30+
Marathoner (Look Ma No Hands) 50+
5. Banned/Challenged Books Reading Challenge 2017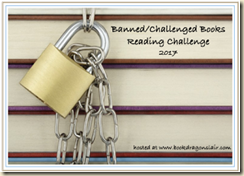 : There's something intriguing about the banned / challenged books. I have never read such books. I'd like to explore some of the books that created controversy.This has the following Levels
Read 1 book. You are an Ember. You're small but mighty just waiting to burn the structure down.
Read 2-6 books. You are Creeping. You're burning with a low flame and spreading slowly.
Read 7-12 books. You are a Blow-up fire. Sudden increase in fire intensity strong enough to upset control plans
Read 13+ books. You are Uncontrolled. Any fire which threatens to destroy life, property, or natural resources.
6. 2017 Diverse Reading Challenge : I liked the guided reading this challenge provides through its diverse prompts.This has monthly mini challenges:
January– diverse folklore/mythology (e.g. South Asian mythology, Russian folklore, Japanese folklore, Greek mythology, Chinese folklore, etc.)
February– POC Main Character / Biracial / Multiracial
March– main characters with a disability
April– mental health
May– religious diversity
June & July– sexuality and gender identity
August– non-Western setting
September– #ownvoices
October– Intersectionality
November– diverse retellings
December– 2017 Releases
7. eBooks Reading Challenge 2017 :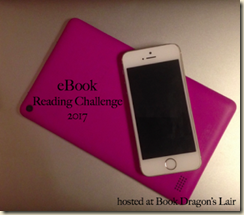 This is going to be my absolute favourite, for now-a-days, I want to read only Kindle books, though in this challenge one can read any electronic format of the book viz PDF, nook, plain text, EPUB, iBook, Mobi etc.Levels in this challenge are…
bit – 1 book
Byte – 10 books
Megabyte – 25 books
Gigabyte – 50 books
Terabyte – 75 books
Petabyte – 100 books
Empty the Cloud – 101+ booksI'd like to go for Empty the Cloud but may be I'd actually do the Terabyte, because I have a lot of paper books that are begging my attention.
8. Humor Reading Challenge 2017 :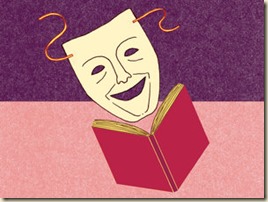 No genre of books brings me as much joy as the books in the humor genre. I simply love reading the fun, funny, witty, entertaining and satirical books. I am aiming to reach the 'Stand Up Comedian' level with this challenge.
Levels for this challenge are…
Cartoonist: 1-5 books
Humor Columnist: 6-10 books
Comedy Writer: 11-15 books
Stand Up Comedian: More than 15 books
9. LGBTQIA Reading Challenge 2017 :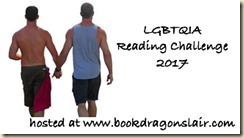 This one is a pretty unique reading challenge. For this one,
You have to read one book of at least 100 pages.
Book should have a main character or significant secondary character that fits one of the Lesbian, Gay, Bisexual, and Transgender, Queer, Intersex and Asexual requirement.
10. #ReadMyOwnDamnBooks 2017 :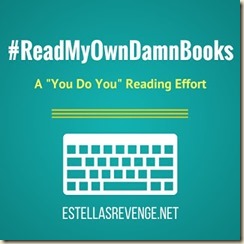 Aah! This is something I seriously need to do it. I have so many unread books in my library cupboard and Kindle. It's high time, I finish reading them before picking up new ones.
The rules are simple…
You make the rules
Be as hardcore (or not) as you want
It's going to be a busy reading year for me and I am really looking forward to read some good books. I can feel it in my bones that this is gonna be exciting. Wish me luck for my ambitious reading goals.
Are you taking up any reading challenges? Any tips/ suggestions you have for me as I chase my 2017 Book Reading Challenges. Do share in the comment box.