Taking Stock of My Book Reading Challenges 2016
Happy New Year, folks! I wish that 2017 is rich with the blessings of love, joy, warmth, and laughter for you and your loved ones.
I know, it's been eleven days since the New Year has rolled in and I am late in waking up to this momentous occasion on my blog. But like they say, better late than never! Hope you are sticking to your new year resolutions and turning them into habits. I have set some goals and challenges for myself in the new year, but more about them a bit later. First, it's time to take stock of the challenges that I took last year.
Last year, I set for myself some pretty ambitious reading challenges. Yes, I took 6 reading challenges. I took these various reading challenges because I am truly book obsessed and wanted to add variety in terms of authors and genres in my reading. So without much ado, let's do a bit of review of my reading challenges of 2016.
1. Goodreads 2016 Reading Challenge
I planned to read 150 books and I actually did it.

Shilpa has completed her goal of reading 150 books in 2016!
It was a simple one. All one has to do is read at least 24 books before the end of the year and at least three of those 24 books must be Indian.
I read 30 books for the HT Brunch Book Challenge. The first book that I marked for #BrunchBookChallenge is eluding my memory and records too, though.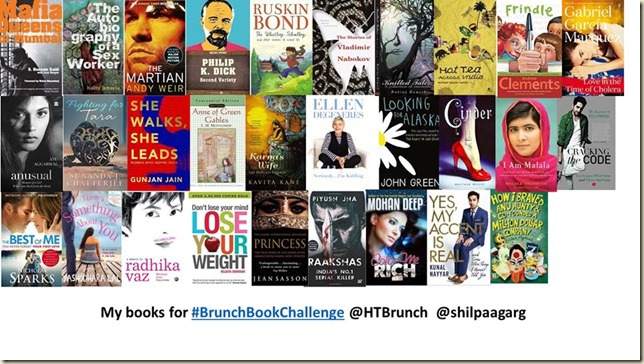 3. Pop Sugar : This one was pretty interesting, creative and challenging. I simply loved finding a book for each of the prompt and then reading it.

These are the books that I read for the various prompts…
| | |
| --- | --- |
| 1. A book based on a fairy tale | Cinder (The Lunar Chronicles Book 1) – Marissa Meyer |
| 2. A National Book Award winner | Harry Potter and The Chamber of Secrets – JK Rowling |
| 3. A YA bestseller | Looking for Alaska – John Green |
| 4. A book you haven't read since high school | Charlie and the Chocolate Factory – Roald Dahl |
| 5. A book set in your home state | Fighting for Tara – Sunanda J. Chatterjee |
| 6. A book translated to English | The Autobiography of a Sex Worker – Nalini Jameela |
| 7. A romance set in the future | Cinder (The Lunar Chronicles Book 1) – Marissa Meyer |
| 8. A book set in Europe | The Girl on the Train – Paula Hawkins |
| 9. A book that's under 150 pages | Tumor – John Grisham |
| 10. A New York Times bestseller | Seriously… I'm Kiddiing – Ellen Degeneres |
| 11. A book that's becoming a movie this year | The Best of Me – Nicholas Sparks |
| 12. A book recommended by someone you just met | Karna's Wife – Kavita Kane |
| 13. A self-improvement book | Don't Lose Your Mind, Lose Your Weight – Rujuta Diwekar |
| 14. A book you can finish in a day | How I Braved Anu Aunty and Co-Founded a Million Dollar Company – Varun Agarwal |
| 15. A book written by a celebrity | Yes, My Accent Is Real – Kunal Nayyar |
| 16. A political memoir | I Am Malala – The Girl Who Stood Up for Education and Was Shot by the Taliban – Christina Lamb and Malala Yousafzai |
| 17. A book at least 100 years older than you | Anne of Green Gables – Lucy Maud Montgomery |
| 18. A book that's more than 600 pages | She Walks, She Leads – Gunjan Jain |
| 19. A book from Oprah's Book Club | Love in the Time of Cholera – Gabriel García Márquez |
| 20. A science-fiction novel | The Martians – Andy Weir |
| 21. A book recommended by a family member | One Indian Girl – Chetan Bhagat |
| 22. A graphic novel | Sick of Being Healthy – Monica Gumber |
| 23. A book that is published in 2016 | Tales Of Sunshine – Sundari Venkatraman |
| 24. A book with a protagonist that has your occupation | Frindle – Andrew Clements |
| 25. A book that takes place during summer | Seducing Summer – Serenity Woods |
| 26. A book and its prequel | No Place Like OZ and Dorothy Must Die – Danielle Paige |
| 27. A murder mystery | Love on The Rocks- Murder On The High Seas – Ismita Tandon Dhankher |
| 28. A book written by a comedian | Unladylike – Radhika Vaz |
| 29. A dystopian novel | Maze Runner- Parody – The Dazed Runner – The Parady Brothers |
| 30. A book with a blue cover | All Aboard – Kiran Manral |
| 31. A book of poetry | Kidnapping Time in 88 Seconds – Laura Patricia Kearney |
| 32. The first book you see in a bookstore | Sidney Sheldon's Reckless (Tracy Whitney #3) – Tilly Bagshawe |
| 33. A classic from the 20th century | Right Ho, Jeeves – PG Wodehouse |
| 34. A book from the library | On Love and Sex – Khushwant Singh |
| 35. An autobiography | Cracking the Code- My Journey in Bollywood – Ayushmann Khurrana, Tahira Kashyap |
| 36. A book about a road trip | Hot Tea Across India – Rishad Saam Mehta |
| 37. A book about a culture you're unfamiliar with | Princess – Jean Sasson |
| 38. A satirical book | Shopping at Tesco – Sarah Ryle |
| 39. A book that takes place on an island | A Midsummer's Equation – Keigo Higashino |
| 40. A book that's guaranteed to bring you joy | Alice In Wonderland – Lewis Carroll |
While I am glad that I was able to read for all the prompts for this Pop Sugar Reading Challenge, there are a few gaps. For instance, I realized just now that I had marked Cinder under two prompts in my excel sheet. Wish I had looked at this lapse a bit earlier. Also, She Walks, She Leads by Gunjan Jain had 584 pages, so I missed the 600 mark by 16 pages. I had planned to read (re-read actually) Gone With the Wind by Margaret Mitchell for the prompt 'a book that's more than 600 pages', but then I just didn't had the time towards the end.
From this challenge, I realized that dystopian novels are not my cup of tea, for I started and abandoned 3 dystopian novels and finally settled for a short one 'The Dazed Runner' in this category.
4. New Authors Challenge : As part of this challenge, I had to read 20 New authors. The guideline was that the authors must be new to you and, preferably from novels. Given below are the 20 New Authors I read for this challenge.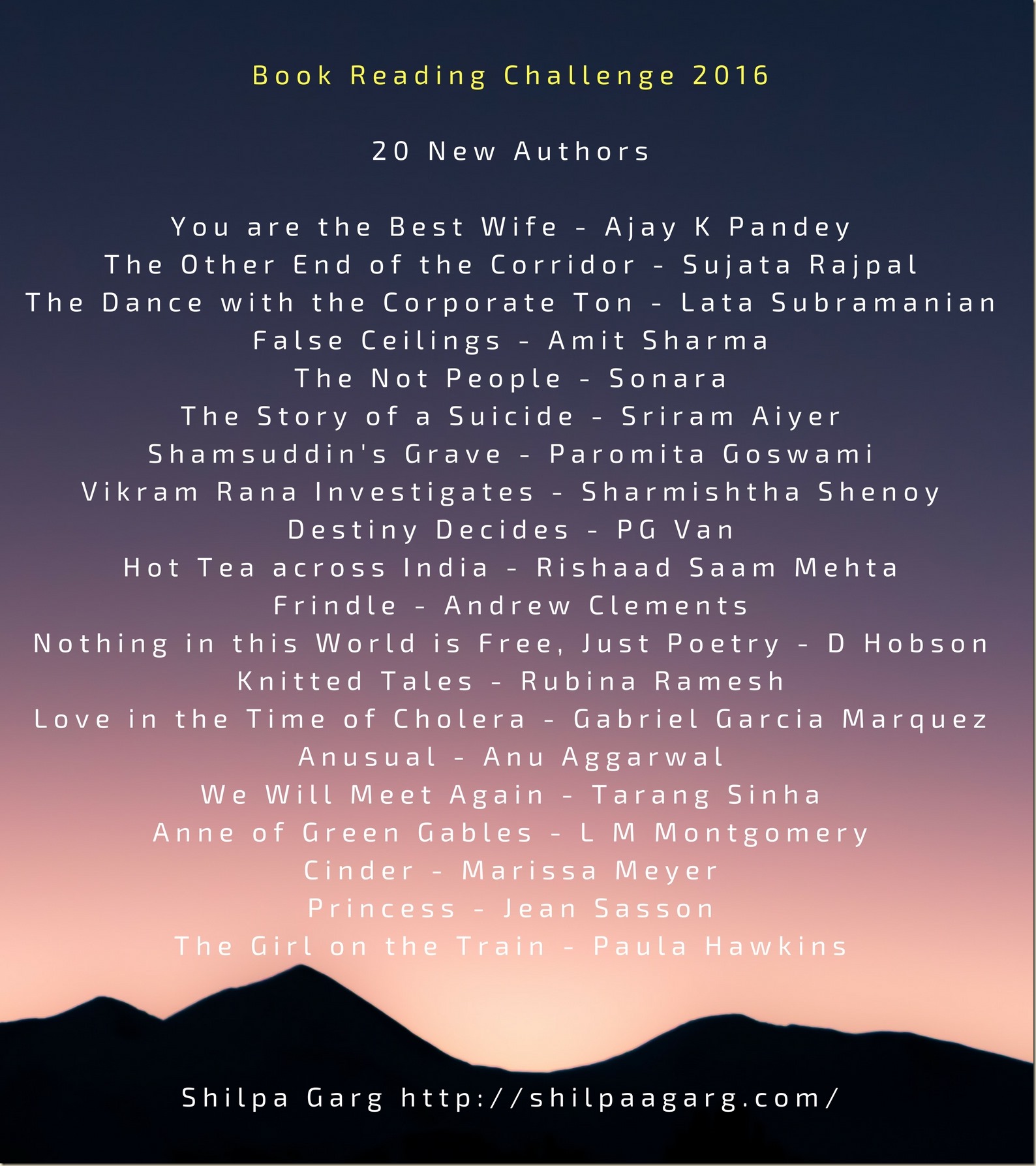 5. 2016 Outdo Yourself Reading Challenge :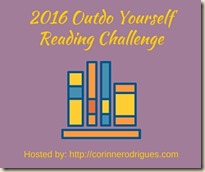 This was hosted by the lovely and inspiring Corinne.
This challenge had 4 levels :
Getting My Heart Rate Up: read 1–5 more books (or 250–1,499 more pages)
Out of Breath: read 6–10 more books (or 1,500–2,749 more pages)
Breaking a Sweat: read 11–15 more books (or 2,750–3,999 more pages)
I'm on Fire!: read 16+ more books (or 4,000+ more pages)
And no marks for guessing that I was on Fire for this one!
6. Audiobook Challenge 2016 : I wanted to explore audio books and challenged myself to check out 5 audio books last year and I heard 6.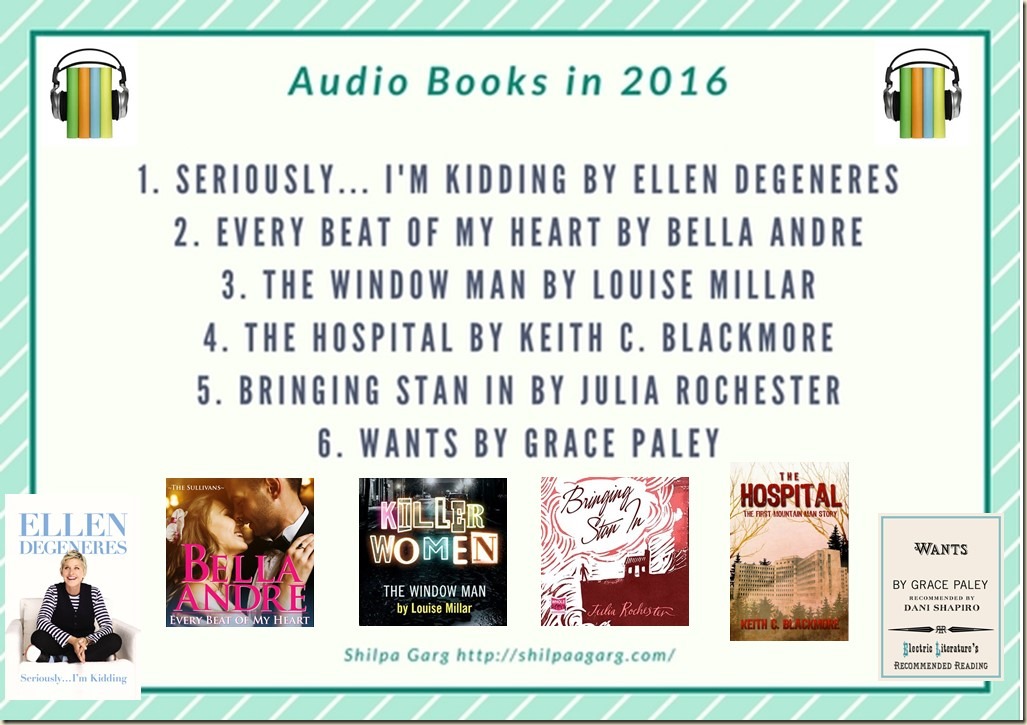 It is good to have an end to journey toward; but it is the journey that matters, in the end. I had super fun reading books for all these challenges. I loved the whole process of planning and looking for books, their reviews and then buying them too. I maintained my reading progress in an excel sheet and reviewing it from time to time inspired me and pushed me to go for the finish line. While I read with a leisurely pace all through the year, the months of November and December saw a peak in my reading life. I read nearly one book a day and sometimes even two. That I was in Kuwait during Nov-Dec and had a lot of free time after work (no household chores and cooking) made this reading spree possible. Achieving my reading goals of 2016 has made me happy like a kid in a candy store, I mean a book store!!
My last year reading journey has re-defined my reading habits. The scales have tipped in favor of Kindle books. Yes, now I don't want to read anything that is not on my Kindle. Audio books have got my acceptance too and the physical books are last on my preference list. This is a shocking realization even to me for I took a long time to warm up to Kindle books. Aah! The winds of change!!
Well, that was my last year in books. How was yours?