Sustainable Urbanisation through #10YearsofMWCJ
The five day, literary gala aka the kumbh of literary festivals, concluded last month. The 10th edition of the ZEE Jaipur Literature Festival saw over 400 leading writers and thinkers from across the world, debate and discuss intellectually and impassionedly.
MWC #Jaipur and #Jaipur Literature Fest celebrates 10 years together. @SanjoyRoyTWA shares his thoughts. #MWCAtJLF @zeejlf pic.twitter.com/hIkbjpxPPo

— Mahindra World City (@Mah_WorldCity) January 19, 2017
Mahindra World City, Jaipur was the Sessions Partner for three key sessions at the ZEE Jaipur Literature Festival 2017.
Eternal Cities: Encounters and Inspirations had Abhay K, Amruta Patil and Marcos Giralt Torrente in conversation with Rob Schmitz. They shared that cities can be a great source of inspiration and are man's greatest creations. In fact, writers and poets often share about cities that inspire them in their works. The culture makes cities great and brings soul to cities which is in sync with the ethos of MWC.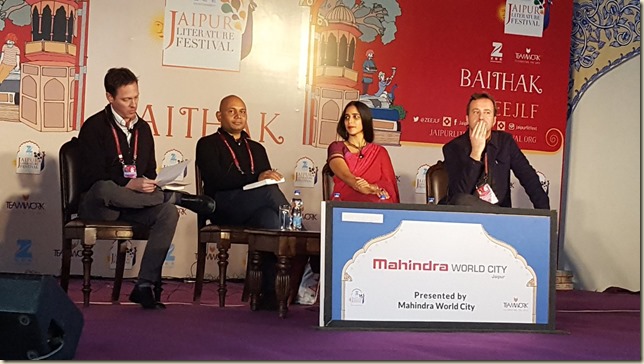 Mahindra World City is actively furthering the cause of sustainable urbanisation, through the development of green communities and creating new economic centers of Life-Living-Livelihood and enabling access to quality housing at affordable prices to a larger section of people.
'@Sanjay_Sriv on #MWCJaipur celebrating its decennial milestone. @ZEEJLF. @DalrympleWill, @SanjoyRoyTWA, @NamitaGokhale_ pic.twitter.com/7wXPtBUEqE

— Mahindra World City (@Mah_WorldCity) January 20, 2017
Rajasthani: Bhasha Ki Manyata had C.P. Deval, Geeta Samour and K.C. Maloo in conversation with Nand Bhardwaj where they asked for constitutional status for the Rajasthani language from government.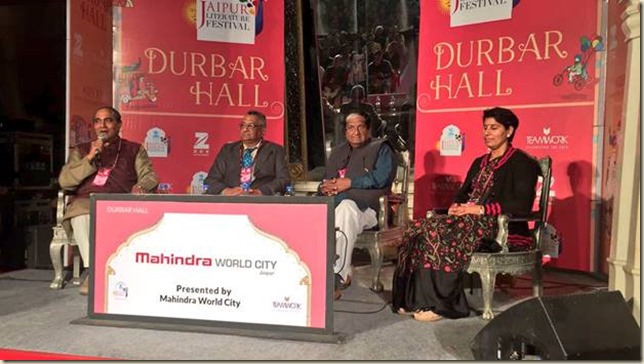 Naari Chetna: Naye Swar — Women Voices: New Writing from Rajasthan had Manisha Kulshreshtha, Rajani Morwal, Tasneem Khan and Uma in conversation with Durgaprasad Agarwal. The session shed light on aspects of gender equality and how family support could be a strong base for women empowerment.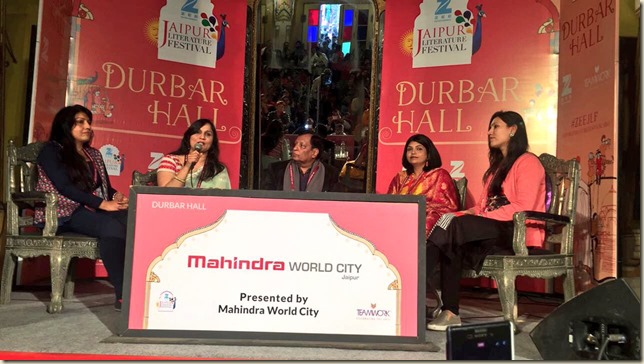 Mahindra World City, Jaipur promotes women empowerment in a big way. MWC believes that for India to maintain its growth trajectory, it is imperative that women have access to education, training programs and support systems. With this they can come out of the veil (parda) and walk the road to prosperity. Unfortunately, this access is not that easily available, especially in rural areas.
From Parda to Prosperity is an ongoing program at MWCJ, which was started 6 years ago for people of all 14 villages neighboring MWC, Jaipur. As they say, educate a woman and you educate a family. With a view to achieve inclusive development, MWCJ took initiative of bring out the talents hidden behind the veils. The idea was to provide vocational/ skill training as this would lead to boarder economic impacts in households.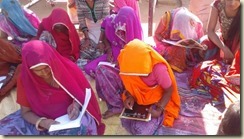 The focus areas of this women empowerment program have been – Education, Vocational Training & Socio-Economic empowerment of Women, Community Participation & Development.
MWCJ has empowered 1125 women till date, 1075 women through 95 Self Help Groups and 50 women are employed at MWCJ and Campus clients.
MWC, Jaipur along with its partner NGO TBI has been conducting various training programs for the benefit of the unemployed youth, faculty members from institutions, and for the engineering students looking to take up entrepreneurship as a career.
Mahindra World City, is truly at the forefront of transforming urban landscapes by creating sustainable communities.