What Happens When You're Married for 20 Years!
This day, 20 years ago, KG and I, tied the proverbial knot. OMG! We have been married for 20 years!! 20 YEARS!?!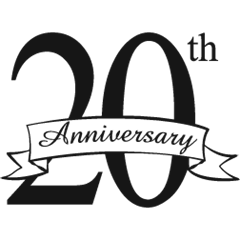 No, I am not going to say, "It was just yesterday or that I married by best friend" or "I'd choose him in a hundred lifetimes." Nah! Not me. I think, these words are perfect for Facebook updates. Oh, don't get me wrong, we have had a pretty interesting and eventful marriage, so far. Touchwood! I won't say all those things because I just prefer to avoid flowery and sentimental language. Yeah, that's the real me.
Today morning, just like every other day, after having our customary tea together, KG and I got busy in the kitchen, preparing breakfast. Aaryan, our 15 year old joined us too. While, KG was making those perfect crispy dosas and Aaryan was shelling peas, I was doing something equally mundane.
Yeah, I agree with you, both KG and AG are poster-boys for domesticated men. It's been a lot of hard work, but am truly glad to see that all my nagging and cajoling has paid off.
While I am talking about my boys who are a great help with housework, let me share something which I realized a few days ago. You know, there are quite a few things that I have never done in these 20 years of our marriage and making dosas is one of them. My love for South Indian food is legendary and we make dosas pretty frequently at home. And can you believe that I have never made them on my own, not even once. KG makes them, ALWAYS!! And this realization is making my heart go all awww!!
Aah! How much I have digressed. So where were we? Yeah, in the kitchen! So, as KG was spreading the dosa batter on the pan, I told him, "I want a special gift from you today!"
Engrossed with his dosa, he asked nonchalantly, "What do you want?"
As a smile of an imminent victory was beginning to take some shape on my face and words were just about to gush out of my mouth, when he quickly said, "I am not giving you that."
I should have had that expression of consternation or annoyance for he just dashed my hopes. But no, nothing of that sort happened for we both burst out laughing as Aaryan looked at us with confusion and dismay.
This is what 20 years of marriage does to you. You know each other so well that sometimes you can second guess what the other person is thinking and can finish each other's sentences. I have lost the count of the number of times we both started to say the exact same thing at the exact same time. It's like we can read each other's minds. We know what the other person is going to say.Though, there are times when we just don't understand each other. The earlier fuming and fretting over the differences has led way to understanding and respect for each other's individuality.
Yes, that's what 20 years of marriage does to you.
Oh, by the way, I was asking KG to quit smoking. I am pretty passionate about him chucking that stick and he is equally passionate about smoking that darn stick. *Sigh*