3 Ways to Style Your Black Kurta
There are a lot of different kurta style which are available in myriad hues but it's no secret that black, as a colour, is a collective favourite and has a hold over us as no other colour does. It is the colour that is always the first choice and the colour that we instantly gravitate towards, especially when it comes to clothing. Black makes you look slimmer, accentuates silhouettes, no matter what your body type. It beautifully complements every complexion and adds an edge and sharpness to attires that makes the appeal and power of it simply unparalleled. 
And it is all these qualities and perks that make black kurta for women, among ethnic wear pieces of a thousand different colours, hues and tints, such an all-time favourite and a very important part of a modern woman's collection. It makes for an appropriate casual wear item, a fitting formal wear item, as well as an adorable, playful yet sophisticated party, wear item. 
That being said, we know that when something is worn as often as the black kurta for women in your closet is, it is quite inevitable to run out of fresh ideas. So for times like those, here are 3 of the easiest, classy everyday looks that you might want to add to your list of must-try outfit ideas:
A black kurta for women with Printed Dupattas
The charm of a colourful printed dupatta paired with a simple and elegant black kurta for women is something very few other items of clothing can match. Pair your kurta with cotton dupattas in prints like Kalamkari, Madhubani, Ikat, Bandhani and even with embroidered varieties like phulkari, gota Patti for everyday model-esque looks that will surely turn heads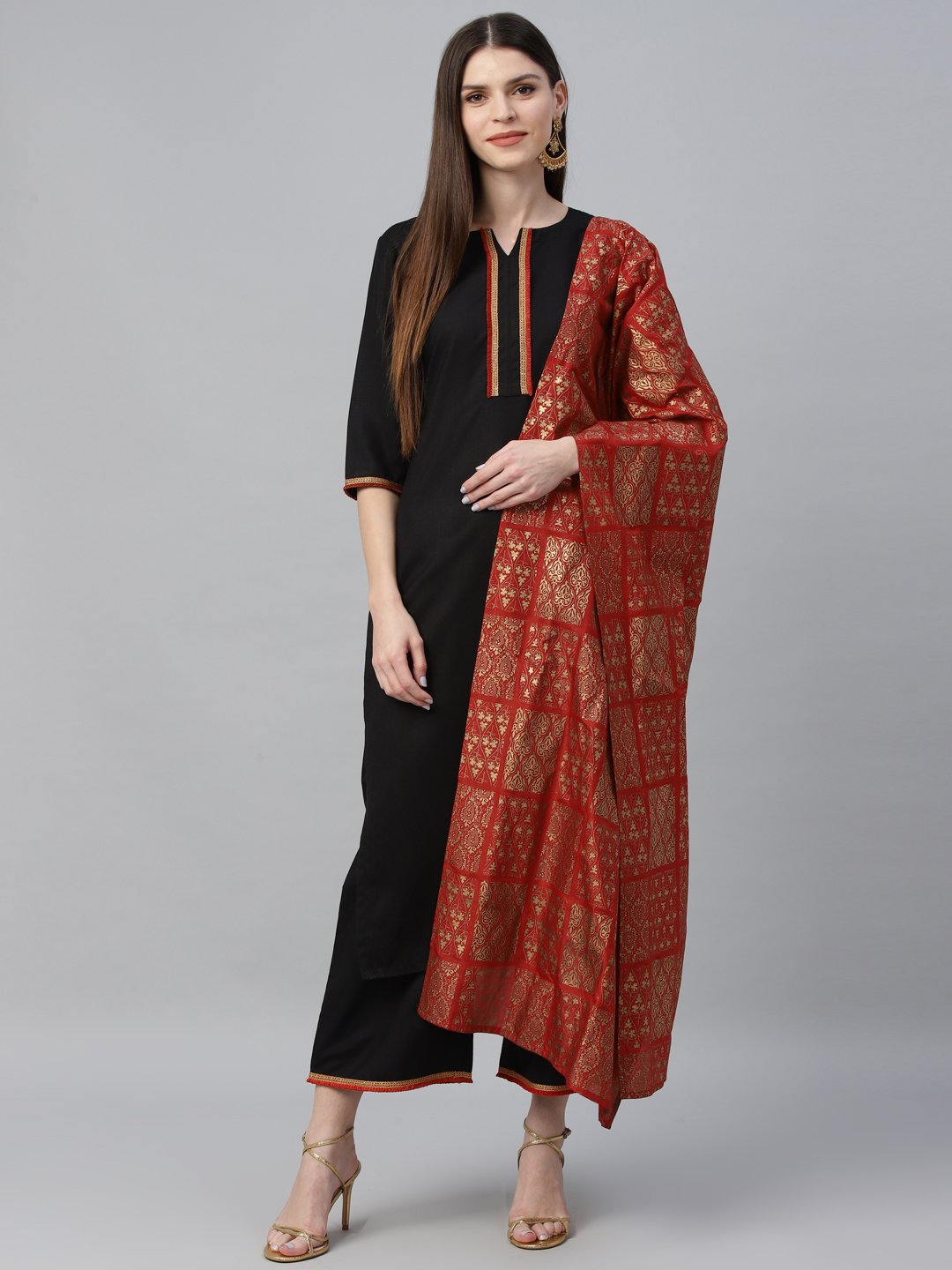 A Black Kurta for Women with Palazzos
These loose-fitting, flared pants have been in trend for quite some time now, owing to the perfect mix of comfort and chic they offer. For a semi-formal occasion or for days when you want to add a fancy twist to an everyday look, try these- put on your favourite black kurta, team it up with either black printed palazzo pants for an up-to-the-minute monochromatic look or with a contrasting, embroidered, off white or pastel coloured one for extra oomph. Accessorize according to your liking, slip on a pair of mojaris, and you're good to go!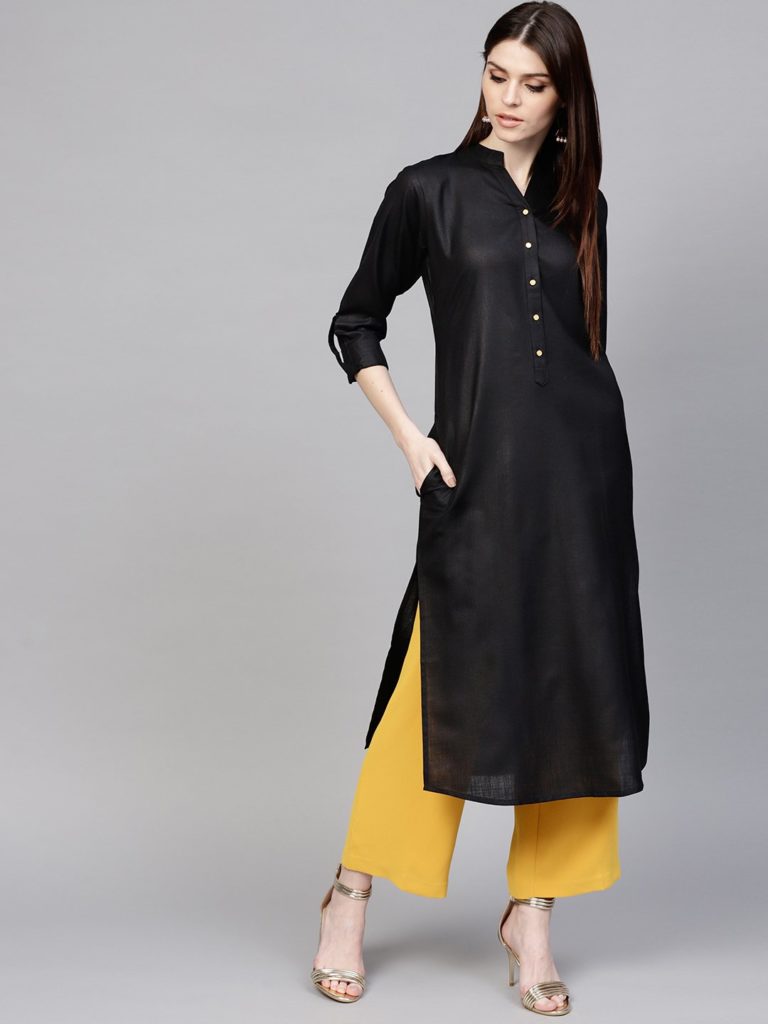 A black kurta for women with a jacket
Be it a denim one, a light and airy shrug or even a colourful, intricately embroidered one, any kind of jacket goes perfectly well with a black kurta. For a laid back day out with friends ensemble- throw on your black kurta, slip into a pair of boyfriend distressed jeans, layer it up with a sleeveless jeans jacket, wear a pair of sneakers and enjoy your day like a diva!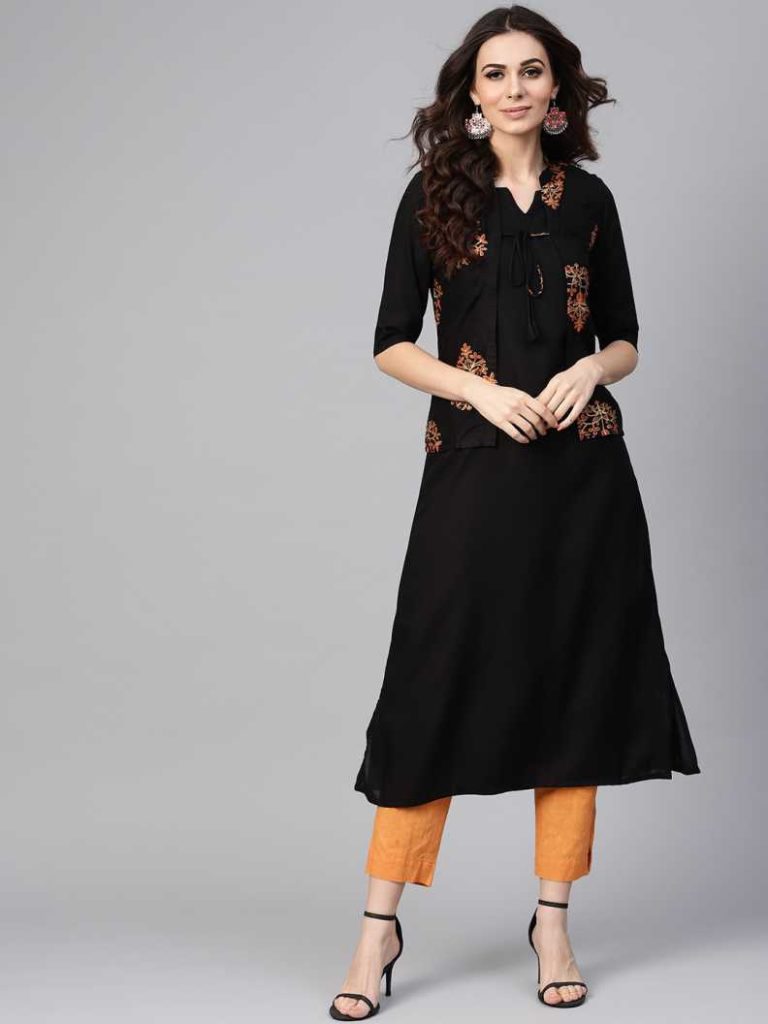 A black kurta for women has been one of the most preferred items of clothing for daily wear, and by the looks of it, the timeless and ageless allure of it will make sure it continues to be a favourite for years to come. So, go ahead and stock up on some wonderful black kurtas as well as palazzos and dupattas from Libas' extensive collection! 
Happy Kurta Shopping!