UBC Day 22 : A Memorable Trip to Ladakh
Holiday means going to some place, where one can relax and rejuvenate, spend quality time with family and discover a new place, its culture and history and enjoy its beauty.
The Plan
Jammu & Kashmir offers amazing tourist destinations. Hence, it was apt and wise to discover the beauty of this land while we were stationed there! And Ladakh was the unanimous choice.
Company
KG, AG and me along with good friends RT, AP and ST went for a 10 day excursion to Leh at Ladakh
Route Map
While we took a flight from Jammu to Srinagar, we explored the valley by road in our Innova.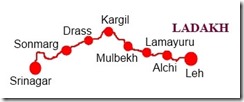 After a day's rest at Srinagar (Alas, we couldn't revisit some of the places again at Srinagar, because it was a 'Bandh' that day! ), our Innovas, started the next day, and via Sonmarg (it's actually Sona Marg) we reached the Zoji La Pass (which is at 11,578 feet). Most of the Zoji La Pass has NO road. So, you have mountains of rock and rubble on one side and a deep valley on the other side, with a river or stream gushing with water and flowing unevenly through rocky stretch of the river. While it was exhilarating to explore such terrains, there were times when we wondered, if we were sane to undertake this trip. The traffic rules were followed to the hilt by the truck drivers, which was a relief and heartening.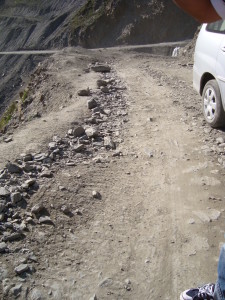 Next, came the Drass. This place has a large military camp. It is said that Drass is the second coldest inhabited place in the world after Siberia, with a minimum recorded winter temperature of -40 degrees C. Many log and rope bridges lead to Kargil.
Kargil was our first break journey point, as we had travelled 204 kms from Srinagar to reach here. A nice sumptuous meal at the hotel and we retired early for an early start, the next morning. It's kind of an amazing feeling to be at a place, which has been on our minds for more than 10 years now!
Day 3 saw us seeing the villages of Shergol, Mulbekh, Gel, Lamayuru, Khalsi and finally Uletokpo.
At 13,432 feet, we reached the Fatu La Pass which is always cool and windy and is the highest pass on the Srinagar-Leh road.

Lamayuru has an old Tibetan monastery of Yungdrung on a crumbling mountain. Throughout the journey fascinating different colored and types of mountains (stone, sand, rocky, granite, soil, black, grey, green, red , purple and orange, one can see them all.) and clear watered lakes or rivers were a constant feature.
After travelling 160 kms from Kargil, we settled for the day at West Ladakh's Tent Camps at Uletokpo.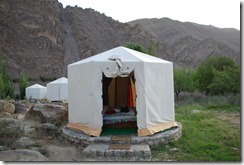 Staying in a camping tent was one exhilarating moment! The Indus River flowed wildly between our camp and the big rocky mountain! It was some view!! Behind our tent, a stream of water was flowing and one morning, we (the women, of course!) couldn't resist the temptation of washing clothes by the stream, despite having clothes which could last us for a month!!
A small trek, meeting a Jompa (it's a cross between an Ox and a Yak) and eating apricots and apples fresh and ripe from the trees, tasting a new Laddakhi dish Thenthup, reading in the serene environment and in general having a great wonderful time, were the highlights of the 2 days camping at Uletokpo.
An accident made us a bit reflective and sad! Near our camping site a tourist cab fell in the raging Indus River killing 3 Malaysian tourists and seriously injuring the driver and another tourist, while one of the tourist went missing, probably the water torrent must have engulfed her!
Day 5, we traveled 70 kms to reach Leh via Alchi, Lekir, Basgo, and Nimmu. Just before Leh, there is this mysterious 'Magnetic Hill'. It's a place where the layout of the surrounding land produces the optical illusion that a very slight downhill slope appears to be an uphill slope. Thus, a car left out of gear will appear to be rolling uphill!!
Shopping
Shopping in the Leh market is fun. The market is flooded with clothes for the winter season and of course for the summers too, gems and jewelry, brass artifacts, Ladakhi, Tibetan and Chinese traditional decorative and curios, Kashmiri carpets and pashmina shawls. And all are exorbitantly priced. Even the road side sellers have artefacts for which they'd quote amount (in Indian Rupees!) in 5 digits!! And the key word is BARGAINING!! I guess, I honed my bargaining skills some more, in Leh!
Day 6 saw us exploring the Tiksey monastery.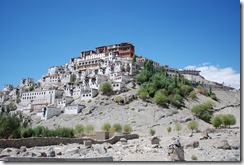 It is some 500-year old monastery, perched on a hill high above the Indus River. The main attraction here is the 15 metre high seated Buddha. This monastery also has a rich and beautiful library with many handwritten and painted books. The highlight of a trip to Tiksey is the view from its lofty roof terrace. A patchwork of barley fields stretches across the floor of the valley, fringed by rippling snow flecked desert mountains and string of Tolkien-esque monasteries, palaces, and Ladakhi villages.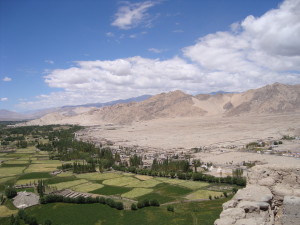 The souvenir shop at the monastery offers some very attractive articles and of course T-shirts with interesting designs, trekking map to Leh and quotes embroidered on them! The best T-shirt quote I liked… 'Yak…Yak…Yak…Ladakh', with embroidered Yaks!
Day 7…woke up at 5 am (!!) to start for the amazing Pangong Lake. Pangong Lake can be reached in a five-six hour drive from Leh, most of it on a rough and dramatic mountain road. And enroute, we passed through the Chang La Pass which is at 17,586 feet and is the third highest mountain pass in India. Here the Indian Army serves the amazing complimentary tea!!
Pangong Lake is a closed drainage basin lake in the Himalayas situated at a height of about 13,900 ft. It is 134 km long and extends from India to China.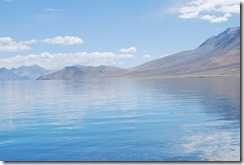 Two thirds of the length of the lake lies in China. The lake is 5 km wide at its broadest point. During winter, the lake freezes completely, despite being saline water. Nature has showered its best colors on Pangong Lake. With the movement of the sun the water shows off various shades of blue in layers which is truly mesmerizing.
And this 12 hour journey had tired us immensely, so we decided to stay put in Leh for 2 more days and relax the remainder of the holidays. Of course, we shopped some more and returned back to Jammu via flight.
Travel Tips
Some tips for you, in case you decide to explore this part of the world some time:
1. You must travel one way by road to experience the scenic beauty of Ladakh.
2. Travelling by road sufficiently acclimatizes you to the low oxygen conditions there.
3. You MUST fly back, coz, so much of travelling on the treacherous mountain roads does take a toll on you!
4. You must stay in a camping site.
5. You must shop!
6. Apply loads of Sun block cream (Minimum SPF-35!), to avoid getting sun burnt or tanned!
We had some amazing time exploring Ladakh! And you must do so too!! So ready, with the packed bags!!
This post is written for Indiblogger's "The Perfect Road Trip" contest in association with "AmbiPur".
To keep your car smelling fresh as new, check out this page facebook.com/AmbiPurIndia

Map Courtesy : Google Images