UBC Day 26 : Friday Fill-in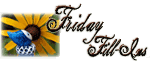 Today, I am doing a 'Friday Fill-in', again, because, I am back home after a hectic day at work and if I say, I am bushed, that's putting it very mildly. But a commitment to blog everyday for UBC is sacrosanct.
So, here we go with this Friday Fill-in. Every Friday, a set of sentences are posted on this site and those who participate have to complete the same on their respective blogs).
1. I use my phone for playing word games, a lot!
2. Cheeni Kum is one of my favourite movies.
3. It's a win for India. India beat Zimbabwe by 58 runs in the second One Day International Cricket match at Harare, today.
4. It is dinner time and I am starving!
5. I said let's go out for dinner, and then he said I'll cook a meal for you! (True story… happened a minute ago!)
6. A Verde Pizza from Pizza Hut is what I'm craving right now!
7. And as for the weekend, tonight I'm looking forward to sleep early, tomorrow my plans include catch up on blogs and get into some serious reading, as my reading schedule has just gone for a toss and my pile of unread books in increasing and Sunday, I want to chill with family and friends and may be go for a movie too!