The Day, Today
This has been a terribly happy busy Sunday! No, I was not cleaning and scrubbing my home. Thankfully, our home is ready for Diwali and everything in the home is now meeting my standards of cleanliness and orderliness.
We were busy this Sunday because of our friends. Yes, we decided to spend our evening with fun, food and firewater with my friends from MBA days. Incidentally, one is KG's school mate. How amazing it is, that a friend studies with your husband in school and then he studies later with you for post graduation. And we discovered this only a few months ago. Another interesting thing about our friends is that 2 couples are happily married to their MBA sweethearts!! And that reminds me that 10 guys and girls from our MBA batch of 30, dated then and are now married to each other.
Once the plans for dinner were finalized in the morning, KG and I sat with our cookery books and decided on the recipes to try. Once we got our menu right, after a late breakfast, we went shopping. Came back home and brainstormed whether to rest first and then cook or vice versa. KG decided to cook first. So since 2.30 in the afternoon, we were in the kitchen.
When we have guests who are a mix of vegetarian and non-vegetarians, the menu becomes pretty elaborate. With non-vegetarian guests, in the main course, a non-veg dish with salad (most prefer only onions), along with chapati and/or rice is a perfect meal. But with vegetarian friends, we prefer to cook a dal, 2 vegetable dishes (dry and gravy), curd/raita, salad, rice and chapati. And today we have a mix group, so imagine the number of dishes that have been cooked!! And since we are 8 adults and 3 kids, so imagine the quantities too!!  KG did 95% of the cooking and I assisted him with chopping, organizing, in short I was a perfect assistant to the master chef. We tasted the dishes and everything turned out just awesome.
Friends turned up at sharp 8 pm and it was an amazing evening. Laughter and anecdotes, memories and smiles, food and firewater, songs and all that jazz… it was a fun and a memorable evening.
How is it with certain friends that time stands still , even if you meet them after years, the bond, the friendship is still the same and you take it ahead from where you had left years ago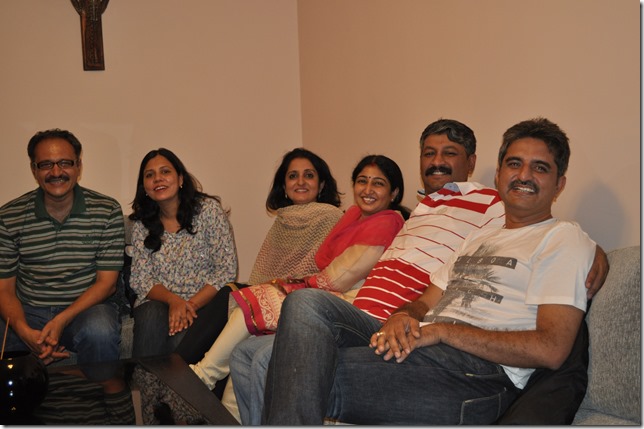 Friends like PB, SB, SR, NR, AT are like stars, you don't always see them but you know they are always there and would add brightness to your world, always!
And partner like KG is my greatest blessing! 🙂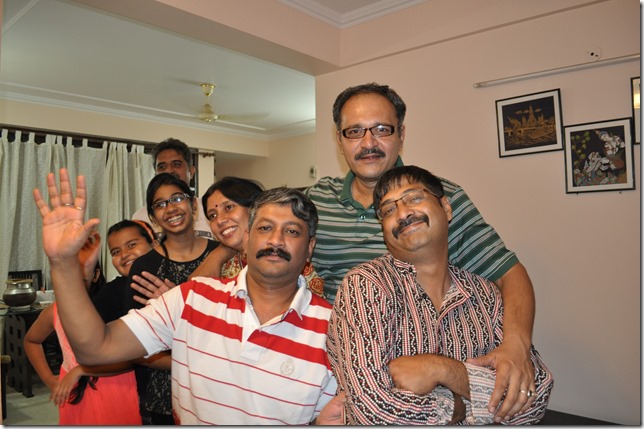 A perfect happy day!
How was your Sunday?
Linking this post to the Ultimate Blog Challenge and October's NaBloPoMo.