Attitude of Gratitude
We were going through a rough patch in life. With so much of uncertainty and struggle, our mere thoughts, negative that is, could make it all the more worse. After all, it is so easy to add the negative junk and have pity-parties in the head. We couldn't afford to make our life all the more dark and gloomy with additional worries and anxiety. We needed to surround ourselves with sunshine and smiles to brave it all.
Around this time, an year ago, I read about Gratitude on Corinne's blog. It said that, one of the most powerful action we can take to greatly increase happiness and satisfaction in our life is to develop an attitude of gratitude. Acknowledging the good that is already in our life is the foundation for all abundance. She shared about counting our blessings and practicing gratitude in difficult times by putting our thoughts into words in a Gratitude Journal. And am I glad that I was inspired that day to start my Gratitude Journal?!
I wouldn't say that keeping this Gratitude Journal brought an end to our struggles. But I can surely say that it brought an amazing amount of calm in my life. It changed my perspective on many things. Writing about the moments, experiences, thoughts and feelings reminded me of the things that gave me that happy and a positive feeling. I realized that despite the tough period that we had to go through, there were still a lot of things that we were blessed with and we had a lot to be thankful for. Writing in my Gratitude Journal has given me a lot of insights on relationships and it has helped me to understand myself a little better too.
Every now and then, I leaf through the older entries and a smile lights up my face. For instance, this one little entry, if I had not written would have faded into oblivion.
21.5.2014

Today, Krishna (our house help) and I were having our morning tea before starting our respective works, in companionable silence. Suddenly, she said, "I like the way you set the breakfast table and how you fuss over Bhaiya (KG) and make him eat his breakfast!" (For the uninitiated, KG is super fussy about food!).

Krishna's observations made my day. It made me realize the power of an honest compliment, kind words, a genuine smile, small gestures, appreciation… Thank you Krishna, for reinforcing this lesson.

Later, in the evening, I shared this with KG. He listened and then said, "Yes, you do that with love, …. so what if the food is 1-2 days old!" And we burst out laughing. I know he is incorrigible!

I am thankful  for the smiles and laughter in our relationship and that we can laugh at ourselves and together too.
And I am grinning as I type this. I am truly grateful for the small happy moments in our life.
We often take for granted the very things that most deserve our gratitude. ~Cynthia Ozick
So, what's on your gratitude list today? Do share what are you grateful for in life?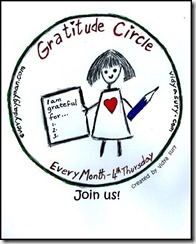 Linking this to Gratitude Circle hosted by Corinne and Vidya.