Playing with Fire
Title: Playing with Fire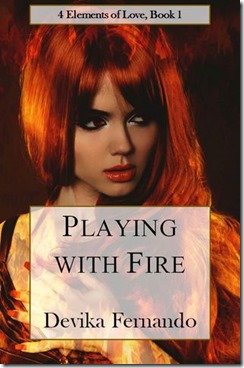 Author: Devika Fernando
Publisher: Smashwords
ASIN: B00LYMQ9NK
Number of Pages: 245 (Estimated)
Price [INR] : 239
Genre: Paranormal Romance
Type : eBook
If you're playing with fire, prepare to get burned – or to fall in love.

Sparks fly when Felicia and Joshua meet. Discovering her inner fire and unleashing unimaginable powers makes her realize that all her life, she has been hiding her true self. When buildings burn and people are in danger, the tempting game of playing with fire becomes serious. Will their love and desperate struggle for control save her life, or will the fire magic turn itself against its mistress?
Felicia seems like an ordinary woman who works at a local library, but there is something different about her. Anybody in their right mind would be scared out of their wits at the sight of a raging fire. But not, Felicia. She feels the fire tempting her, pulling her closer with its heat and energy, and with its promises of passion. There's a dangerous, undefinable strength lurking inside her which makes her restless and she is unaware of her unique magic.
Joshua, a private investigator, 'saves' her and sees the power inside her. She is a fire mistress and he is, well, the ice master! They are exactly opposite to each other and as expected create and share some intense chemistry, from the very beginning.
Playing with Fire is a paranormal romance between Felicia and Joshua who are people with special talents and mysterious gifts. Mystery is the driving force of the plot and I was immediately drawn into the story. It captured and held my attention from the beginning. I was sufficiently intrigued and kept turning the pages, one after the other to know about their journey as they explored their special powers.
The story has sufficient twists and turns along with thrills and chills to keep you engrossed and entertained. The end comes as a surprise too. With a fast-paced narrative that has you on the edge of your seat, strong characters, Devika creates vivid images with her words. I like her voice which is very clear and strong.
If paranormal and supernatural stories interest you, you will enjoy Playing with Fire!
Buy Playing with Fire @ Amazon.com and Smashwords
This Tour is Hosted by
Facebook | Website | Blog Tours | Twitter | Pinterest | Linkedin