Your Tarot Predictions for 2015
Title: Your Tarot Predictions for 2015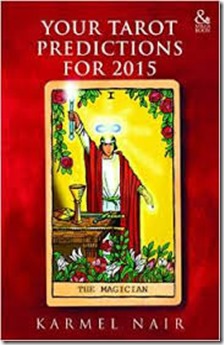 Author: Karmel Nair
Publisher: Harlequin India
ISBN: 978-93-5106-665-1
Number of Pages: 375
Price [INR]: 295
Genre: Non Fiction/Predictions/Horoscope
I have never been to an official Tarot reader. A friend dabbles into Tarot reading and after meeting her once, I remember clicking on some websites for free Tarot readings online, some time back. Through her, I came to know a bit about the mystical and magical world of Tarot.
When I got an opportunity to read and review Your Tarot Predictions for 2015 by Karmel Nair, I was thrilled. It was like, killing two birds with one stone. I was not only getting to know what future had in store for me in 2015 but also gain some insights about Tarot reading. By the way, this is the first ever book of predictions using Tarot!
When, I started reading this book, I learnt that Tarot is not just a medium to predict the future. Besides readings, Tarot gives a new way to handle life by guiding not only through predictions for the future but also by equipping you with the means to address this future. The Tarot way encourages and enables a deep understanding of self and once you know your inner spirit, there is nothing that can stop from creating your destiny. So, in a way, Tarot leads you to your spiritual being and helps you to unlock your latent powers.
This book comprehensively shatters the myths about Tarot (that it is done only/mostly by gypsies, is witchcraft or magic, or that connects you with your spirits, the supernatural). Then it gives the history of Tarot, what is a Tarot deck, how a Tarot reading is done, what kind of questions does Tarot answer, how can one benefit from it, how it is different from Numerology and Astrology.
The book which is your access to the future, describes the cards associated with each Zodiac sign, along with monthly predictions, also there are quarterly predictions specifically on your love, health, wealth, career and the spiritual you in 2015. At the end of each Zodiac's reading, which runs into a lot of pages, there's a summary of the predictions too. There are some interesting insights into each Zodiac sign as well as your future interpreted through Tarot Spreads. Each Zodiac ends with the author's note specifically for that Zodiac along with examples of contemporary icons from that Zodiac, for example, the icons who are Sagittarius are Rajnikanth and Brad Pitt.
So from these detailed readings on various aspects of our life, one has the power to change the predictions and the future by acting now and doing what is most needed and what is right. It may help to strengthen the inner voice and carve a destiny that one desires.
Tarot Predictions for 2015 is your complete trilogy- the Future, the power of Change and the way to Spirituality. Go on and read it to know and change your destiny.