Usual Places, Unusual Sights
During our last visit to Mussoorie, we halted our journey to visit the Bhatoli village. We parked our vehicle on the road and trekked a few meters down the hill. We were to visit a temple there.
The golden yellow coloured hundreds of corn cobs hanging outside the homes in the village was the first thing that caught our attention.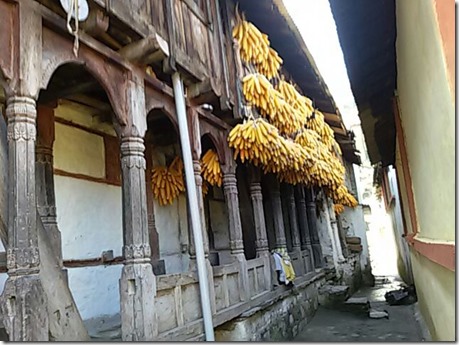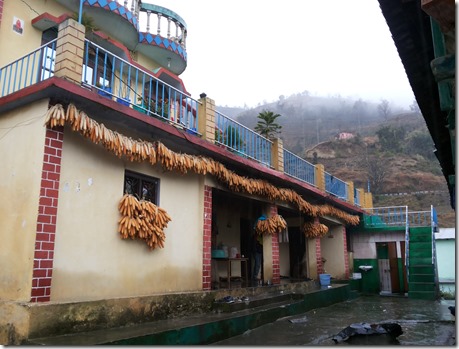 No, these corns are not used as decoratives but is the harvest of the season.  After the corn is harvested in Sept-Oct, they are hung outside the homes and plucked off from the string as and when needed for consumption. It was raining that day and these corns on the strings were dripping wet. I wondered, if the damp corn would rot. My query was laughed off and I was told that the next day's sun would dry it and it would be good to use. I found it strange but then that's how the villagers are preserving and consuming their harvest of the year for ages!
**********
I was reading a book while waiting for the flight to be announced at the Dehradun airport. As I turned the page of my book, my attention wandered a bit and I looked around. Seated behind my row of chairs was a foreigner. And I was surprised to see her doing what she was doing. No, she wasn't doing anything out of ordinary. But the unusual about her was …
Well, see it for yourself…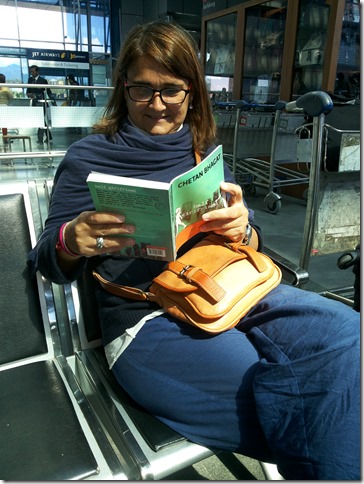 Yes, she was reading Half Girlfriend by Chetan Bhagat!!  Soon enough, we got chatting and she told me about her love for India. This was her fifth visit to India and she had visited Jaipur twice. Amazing isn't it! Her Indian friend recommended CB's book to her and she quite liked his writing style. And guess what, she loves Sudha Murthy's books and has read quite a few of them. Double amazing!! While we were discussing about Indian authors and books, she mentioned that she'd be buying books in bulk from Flora Fountain at Mumbai as they are pretty economical there!! Triple Amazing?!? Nah, I was simply floored!!
Oh yes, this picture was clicked with her consent!
**********
While, I was browsing through the books at the airport book stall, I saw these 4 books in one corner.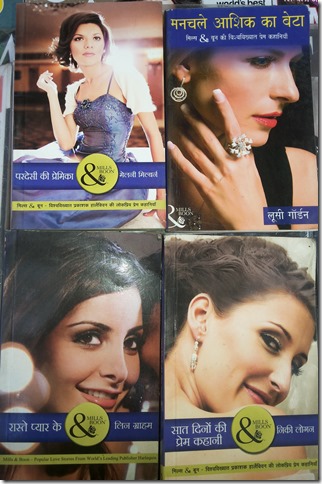 As you can see these are the Hindi editions of the Mills & Boon from Harlequin. Looks like the king of romantic fiction has forayed into Indian regional publishing market. And there's a huge market for this, the bookseller informed me. Aah! Well, may be! But the titles of these books in Hindi will put me off Mills & Boon, forever!
What do you think?