The #CreateFearlessly Experience
I like the ridged grilled sandwiches that they serve in restaurants and cafes. They are different from my regular sandwich maker which makes plain triangle sandwiches.
When I got the Hamilton Beach Panini Press and Indoor Grill, through Blogadda, I was simply thrilled. I was thrilled to visualize the look of the sandwiches on our dining table from hereupon. And of course, KG loves grilling meat and vegetables, so I could see that this appliance would be part of our kitchen buzz, a lot!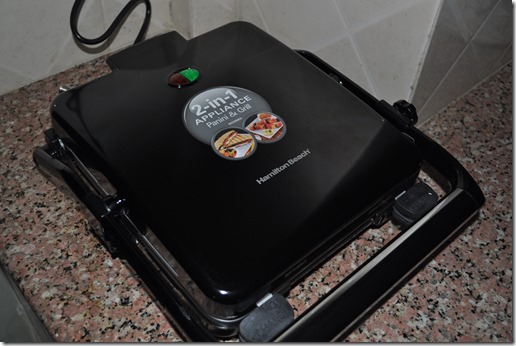 The first dish that we tried on our new Panini Press and Indoor Grill was Marinated Grilled Chicken. And next we made was Cheese Aloo Tikki Vegetable Sandwich.
We simply loved the #CreateFearlessly experience of grilling and making sandwiches.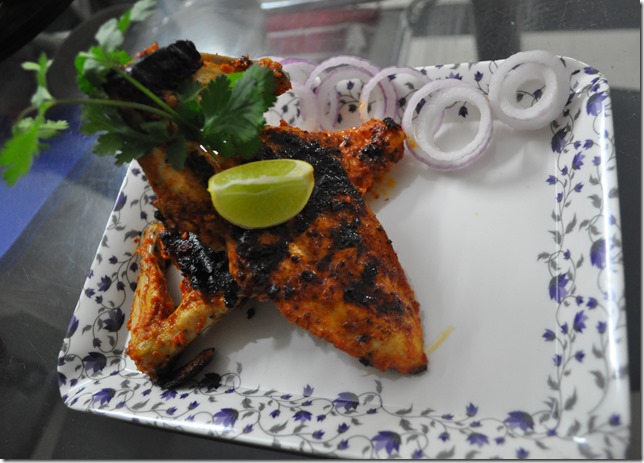 After preheating the Hamilton Beach Panini Press and Indoor Grill, it starts its magic. It comes with a detachable top and bottom non-stick grill plates which are pretty large (216 sq cm says the product manual!). Four large bread slices can be grilled simultaneously.  And the bread comes out perfectly and evenly toasted. The contact grill is good for cooking and grilling fish fillets, steaks, chicken breasts, sausages, patties,  hamburgers, sandwiches and vegetables. Did I tell you that I am simply in love with the wonderful ridged grilled marks on the sandwiches.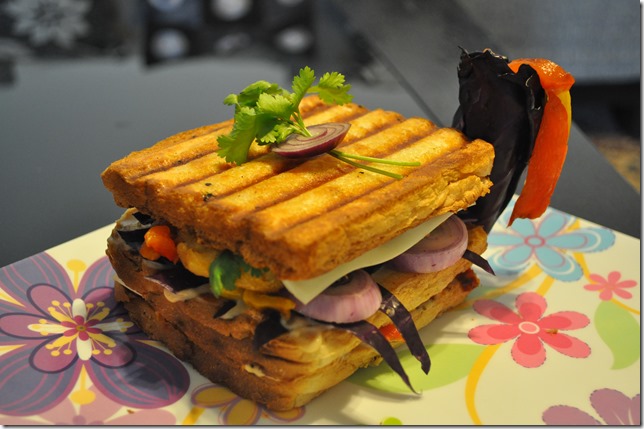 The floating hinge and height locking feature in this Panini Grill is suitable for making sandwiches of all thicknesses and varieties. Yes, the sandwiches that we see on Eat St. via Fox Traveller can now be made in our very own kitchen.
Hamilton Beach Panini Press and Indoor Grill is a no fuss appliance. It is simple to use. All that needs to be done is simply plug in the machine and red light starts. When the correct cooking temperature is reached, which is a few minutes later, the green light turns on. Place the assembled sandwich, press down the grill and about five minutes later there's a perfect sandwich – toasted on the outside and hot inside. And that's because of the 1200 watts of power which ensures heating of the grill plates quickly and evenly.
The non-stick grill plates are removable so they can be easily cleaned with soapy water which is a big plus for a cleanliness freak like me. My expenses for kitchen napkins would come down substantially as I would no longer be using the bulk of paper napkins to clean up my earlier sandwich maker! The removable drip tray is another thoughtful addition in this appliance. So, all the butter or oil or the marinade drips into this tray and the kitchen counter stays non-greasy and non-messy.
The 2 skewers with Hamilton Beach Panini Press and Indoor Grill can be used for making kebabs and paneer tikkas. We have not used the skewers as yet. I just told KG about it and he says that this weekend it would be the day for kebabs! Can't wait for the weekend!!
I simply loved this activity. Thank you Blogadda and Hamilton Beach. 🙂
This post is a part of #CreateFearlessly activity at BlogAdda in association with Hamilton Beach. Check out exciting videos and recipes by following #CreateFearlessly on Twitter.