Value #AtoZChallenge @AprilA2Z
My theme for this year's Blogging from A to Z April Challenge is Cultivating Happiness. Today, V is for Value.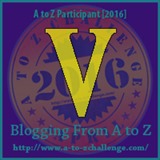 "When will you learn that a bed is not the place to keep a wet towel."
"Can you stop blaming me for everything?"
They rode on waves of pot-shots and barbs and floated it away but a new wave returned soon after.
With welled up eyes she remembers all those things that don't happen anymore!
A Word to the Wise
Live a purposeful life. Seek meaning in what you are doing. Not only value your life but value the life of everyone around- loved ones and strangers. Valuing others makes our self-value soar.
You can check out my A-Z posts thus far by clicking on a highlighted letter!