Will Power #AtoZChallenge @AprilA2Z
My theme for this year's Blogging from A to Z April Challenge is Cultivating Happiness. Today, W is for Will Power.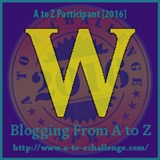 His heart skipped a beat.
He couldn't get his fill of looking.
He knew it was not right, it could not be.
Head held low and moving on would be best.
Still his heart was in denial.
His head, however knew that he must turn down the sinfully rich brownie that was calling his name.
A Word to the Wise
Increase your capacity to set goals and then move towards achieving them. Improving your self-discipline will also boost your self-esteem which leads to satisfaction and happiness.
You can check out my A-Z posts thus far by clicking on a highlighted letter!