5 Easy No-Cook, No-Fuss Recipes
Cooking is love, passion, fun, therapeutic and rewarding for many and it is a chore and a responsibility for many. It's obvious that the former love to spend hours in the kitchen creating magical dishes and the latter can't wait to get out of the kitchen. For those who hate to stand in front of the stove, let me share some no-cook and no-fuss recipes.
Oh, these no-cook and no-fuss recipes are ideal to introduce kids to cooking too. Also these recipes can be made quickly and easily with lesser ingredients as compared to regular traditional dishes.
So whether you are in no mood to cook or have run out of gas or feel it's too hot to sweat it in the kitchen or are just lazy, here are some Easy No-Cook, No-Fuss Recipes just for you.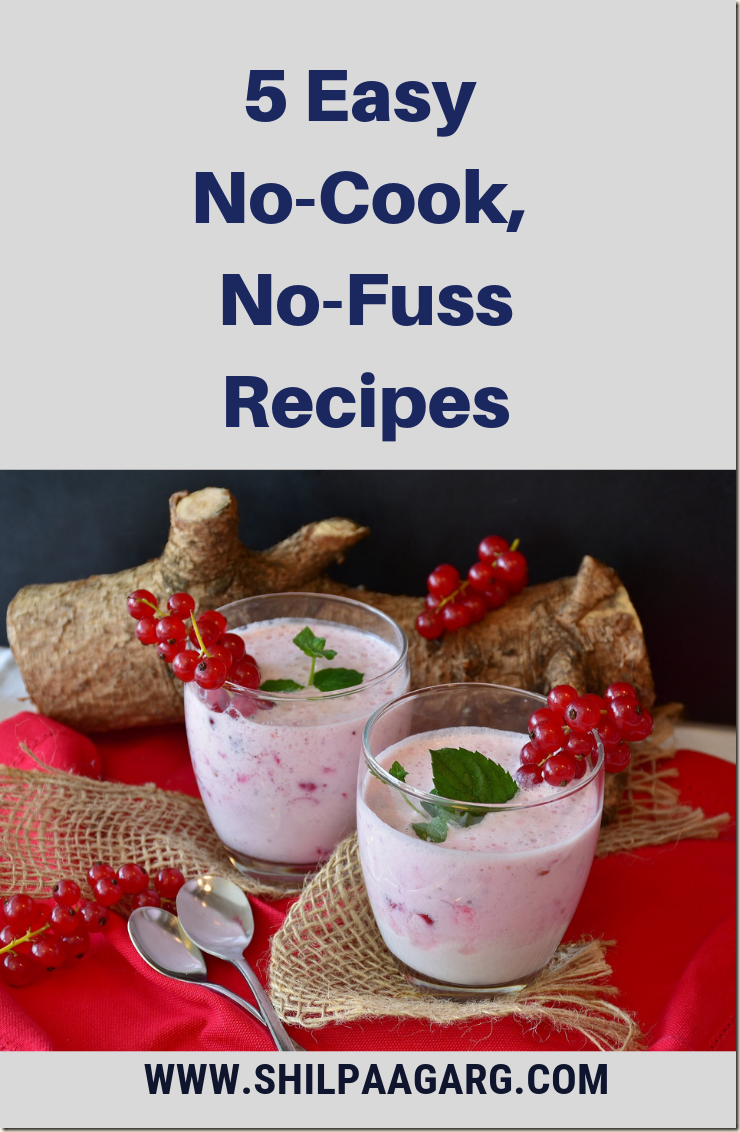 1. Appetizers and Sides
Ingredients
Cucumbers – 2
Cottage Cheese – 1/2 Cup
How to Make
Slice cucumbers in half lengthwise; trim ends. Cut each half into 3/4-inch pieces.
Scoop out the center of each piece of cucumber with a melon baller or a scoop, and fill with about 1/2 teaspoon cottage cheese. Garnish with clover sprouts, and serve.
2. Breakfast
Ingredients
Quaker Oats – 1/2 Cup
Low Fat Milk – 1/2 Cup
Honey – 1 Tbsp
Cocoa powder – 1 Tsp
Chocolate, shavings – 1 Tbsp
Strawberries, hulled and sliced – 1/4 Cup
How to Make
Add Quaker Oats to your container of choice, pour in milk, and layer strawberries, cocoa powder, honey, and chocolate shavings.
Refrigerate overnight and enjoy when you wake!
3. Main Dish

Ingredients
Plain hummus – 1 Cup
Whole-wheat pitas, halved – 4
Green leaf lettuce leaves, halved – 4
Thinly sliced English cucumber – 1 1/4 cups
Thinly sliced radishes – 3/4 cup
Thinly sliced red onion – 1/3 cup
Crumbled feta cheese – 1/2 cup
Freshly ground black pepper
How to Make
Divide hummus evenly among 8 pita halves -about 1 1/2 tablespoons each.
Divide lettuce, cucumber, radishes, onion, and cheese evenly among pita halves. Sprinkle with pepper.
4. Dessert
Ingredients

Almonds (blanched and ground) – 1 Cup
Condensed milk – 1.5 Cup
Cream – 6 tbsp
Toasted pistachio, chopped coarsely – 15-20
Milk – 1/4 cup
A pinch of Saffron
How to Make
In a bowl, blend ground blanched almonds, condensed milk and cream together.
Infuse milk with saffron and add the mix into it.
Add pistachio into it and blend them well together.
Set them in a matki and cover it with butter paper.
Refrigerate and serve cold.
5. Shake
Ingredients
Milk – ½ Cup
Nutella – 1 Tablespoon
Vanilla Ice-Cream – 2 Cups
How to Make

Pour the milk in the mason jar, add the Nutella and then tightly fasten the lid.
Shake the jar vigorously for about 20 seconds, or until evenly mixed.
Add the vanilla ice cream and shake the jar to mix all the ingredients evenly.
Pour your shake into a glass and enjoy!
Do you like No-Cook and No-Fuss Recipes? Do you give your gas some rest sometime by rustling up some quick and easy dishes?
My theme for this year's Blogging from A to Z April Challenge is Food Talks. Join me for some interesting, fun conversations about food experiences, experiments, basics, tips, ideas, hacks, trends and much more.