7 Tips for Outdoor Cooking
Is there anything better than cooking and eating outdoors with family and friends? Our visits to a farmhouse or a picnic in the wild is not complete without cooking outdoors.
Cooking outdoors is an experience in itself. Something about cooking the old fashioned way with the basic and bare minimum items makes the entire experience – from food preparation to enjoying the last bite – special. Everything moves at an unhurried pace and it is truly relaxing and enjoyable. Though the food is simple but for some inexplicable reason, it always tastes good. With KG as our resident chef, cooking outdoors is a given.
Based on our experience, let me share some tips to help make cooking in the outdoors less daunting, and more fun.
1. Make a List and Plan Ahead
This is a no-brainer but it's worth following. Unless you carry the entire contents of your kitchen, which you shouldn't, it's easy to forget items you need. For cooking outdoors, planning your menu and making a list of all the required ingredients and utensils is a must. If possible, do basic meal prep at home.
2. Put Everyone to Work
The designated cook shouldn't do all the work. There's a lot of work involved with making meals outside, so assign work to everyone in the group. For many, it is a first experience and hence becomes a memorable and enjoyable event. I remember, in one of our picnics, a friend who had never ventured in the kitchen, became an expert in chopping onions and another one could roll out perfect round chapatis. The wives still thank KG for initiating their husbands into cooking.
3. Always Cover Food while Cooking
Covering pots and pans will not only keep insects out of the food, but it will also help the food to cook faster.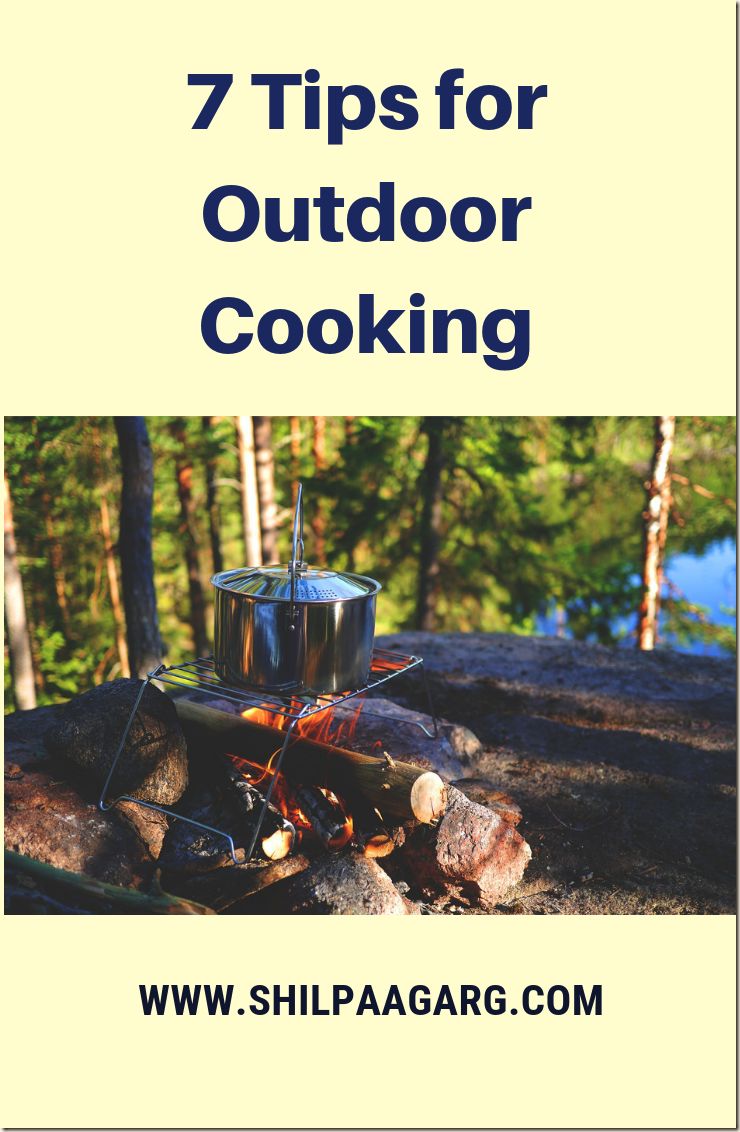 4. Keep Food Locked Up
Aah! Once our pet dogs polished off the cooked chicken and we had to have our meal with pickle and namkeen. It was such a bummer of an outdoor meal.
5. Have a Back-up Plan
May be the rains play spoilsport or the main cook is injured or unwell, sometimes things dont work as per the plan. Once we got lost and reached the designated camping site pretty late, so cooking a meal was just out of question. So packaged food, heat-and-eat meals, snacks or no-cook meals should be available as a back-up. Be flexible in your approach. In the absence of skewers, meat was grilled on tree branches.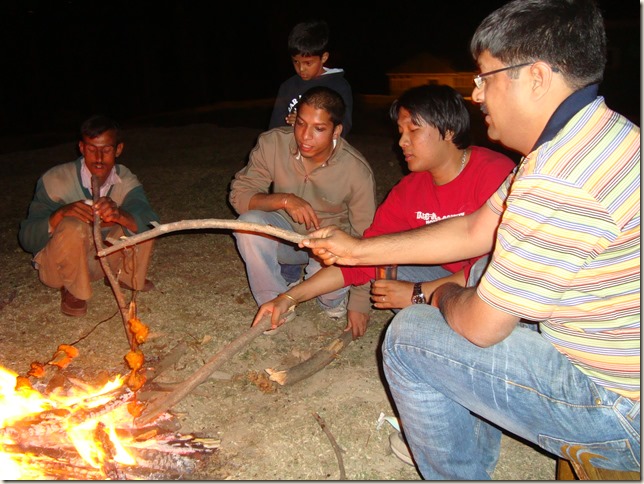 6. Say Bye-Bye to Perfection
Perfection and outdoors don't go together. When outdoors, don't sweat the small stuff. The idea is to cook, eat, and enjoy the meal together. So, apart from everyone following the basic safety and hygiene rules, do not stress about perfection.
7. Have Fun!
Remember, your outdoor cooking should be about fun and enjoyment. It's the time to bond with your family and friends in the exciting outdoors. So, even if things don't go as per the plan and often, they won't… just go with the flow and focus on having a fabulous time.
Have you cooked meals in the outdoors? How has been your experience?
My theme for this year's Blogging from A to Z April Challenge is Food Talks. Join me for some interesting, fun conversations about food experiences, experiments, basics, tips, ideas, hacks, trends and much more.