Thursday Challenge : Outdoors
This week's theme at Thursday Challenge is Outdoors.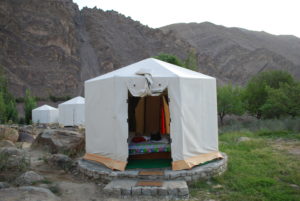 This was our camping site at West Ladakh in Uletokpo, Ladakh.
Staying in a camping tent was one exhilarating moment! The Indus river flowed wildly between our camp and the big rocky mountain! It was some awesome view!!
The tent had 2 beds with a side table and an attached bathroom. A set up which took us some what back to the basics. Of course, the bath had showers and hot water supply. A battery operated table lamp lit the tent at night. And the weather was simply heavenly.
Behind our tent, a stream of water was flowing and one morning, we (the women, of course!) couldn't resist the temptation of washing clothes by the stream, despite having clothes which could last us for a month!!
If you're looking for solitude, serenity, and real peace and quiet, a camping trip in the mountains is the answer.