My Untold Story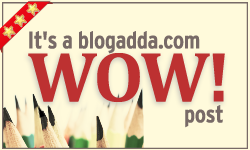 5..4..3..2..1..!
Boom! The blast ripped the solemn congregation to bloody tatters.
Dead bodies lay scattered along with slippers and debris soaked in blood, traumatized survivors wailed or simply stared in silent shock.
Oblivious to the horror I would have caused, my last thoughts as I pressed the button was that of meeting God in paradise.
This post is a part of Write Over the Weekend, an initiative for Indian Bloggers by BlogAdda
Linked to Blogadda WOW results : http://adda.at/19T4N9z