A Dear Confusion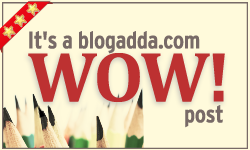 "No, I don't want to listen more about it.
I know all about it, courtesy you!, so much so that I can write a book on it.
I know that they are designed, engineered and built in the good ol' U.S. of A and have a rich history and century-long heritage.
I know that they are always in style and that it has the power to turn heads, always.
I know that they sound cool, kind of like a World War I biplane and you wanted to own it ever since you were 13 years old.
But the point is that do we need it? Don't you know how it will strain our finances? The EMI will burn a big hole in our monthly savings.
You know all this, isn't it?"
There was a long silence on both the ends.
With a big sigh she said, "OK Bye!" and replaced the receiver of the phone.
He mistook it to 'Buy'.
And off he went to buy his mean machine, The Harley Davidson.
This post is a part of Write Over the Weekend, an initiative for Indian Bloggers by BlogAdda
Linking this post to the Ultimate Blog Challenge and October's NaBloPoMo.
This weeks prompt –
She said ____. He mistook it to be ____.
The words used in the blanks have to rhyme and your post should revolve around the confusion thus created as a result of the miscommunication.
Image Courtesy : Google Images