Where The Rainbow Ends
Title : Where The Rainbow Ends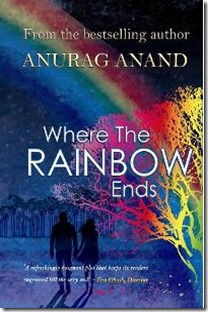 Author : Anurag Anand
Publisher : Srishti Publishers & Distributors
ISBN : 978-93-82665-01-4
Number of Pages : 200
Price [INR] : 150
Genre: Fiction
From the Cover Blurb: Even the most artistic of imaginings can sometimes seem callow in the face of truth. That which appears may not be and that which lies hidden might just be the stark, naked face of reality.
Rahul had everything going his way – a soaring career, a happy family and all else a man his age could yearn for. And then suddenly his life began to crumble all around him, disintegrating element after precious element, leaving him to watch in helpless horror.
Where had he gone wrong? Was there still hope for redemption, even a solitary ray that he could cling on to?
Avantika, a pretty, vivacious girl who had come into Rahul's life by pure accident, literally, has suddenly gone missing. Just like that, without as much as a trace.
Where is Avantika? Will Rahul be able to find her? Is it her own past that has come back to consume her or is it something even more vicious and sinister?
Shalini, Rahul's first love and a girl accustomed to leading life on her own terms. Hailing from a family that exerts considerable influence in the galleries of politics and power, she certainly has the wherewithal to impact a lot of things. Even lives.
Is Shalini fostering a grudge that could displace not one but many lives? Could she be the one behind Avantika's mysterious disappearance?
Review : The book has 200 pages and I read the first 100 pages at one go. It was tough to tear myself from the book but then one has to sleep. In the morning, the first thing that I did was to read up the next 100 pages. Well, that's the pull of this book.
Where The Rainbow Ends is a well crafted story of Rahul, Shalini and Avantika which is set in today's times. The story is narrated from Rahul's point of view. The characters are very realistic and so are their trials and tribulations, actions and reactions which makes the story more interesting and believable. Though why Rahul never contacted his family when he was going through a tough time, flummoxed me.
The climax is surprising and explosive and neatly wraps the story. The end makes you a bit sad but then it is within the limitations of the story and its setting. The author delivers his story simply, powerfully and movingly.
The cover page of the book says that Where The Rainbow Ends is a racy page-turner that promises to take you on a tempestuous and soul-stirring journey which shall remain with you long after you have put the book down, and I agree with this completely.
Definitely a recommended read.
Where The Rainbow Ends is Anurag's 5th book and I am so looking forward to read his first 4 books now.
Rating : 4.5/5
Linking this post to the Ultimate Blog Challenge and October's NaBloPoMo.