What Did You Learn Today?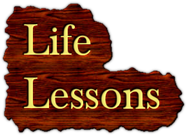 As parents, the first question that we asked our children as soon as they returned back from their school must have been "What did you learn in school today?"  This would have continued until their  primary school.
As they grew older, we rarely asked this question, though they were learning new lessons everyday. In fact , we never ask ourselves the lessons life has been teaching us all these years. And this is when learning never stops and there's no better teacher than life itself. In fact, it is the best teacher.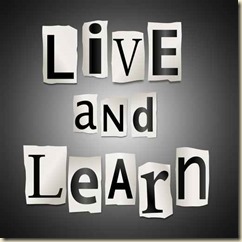 Unlike school, where we are taught a lesson and then given a test, in life, we are given a test that teaches us a lesson. I believe  they call them "life lessons" for a reason. We need to experience life in order to learn the lessons. And the more life we experience, the more lessons we learn.
For each one of us, life does not follow a fixed pattern. It is like a sea, with its waves and currents that are ever changing and  that keeps changing its paths and destinations. With each new path and each new journey, the lessons it teaches are immense and diverse for one and all. Of course, we can learn from the experiences of others too.
"What have I learned?", this is one question that we must ask ourselves, everyday.
For instance, today, I learnt that when you surround yourself with passionate people, your world changes. After all, it all begins and ends with passion. Passionate people believe and do the impossible. Their company lights you on fire and changes your reality! And am I glad that I met two such people today!!
This question, "What have I learned?" will help us to:
Evolve as better human beings.
Draw our learnings and lessons from everything that we experience.
Make the best of the tough times and grow from the trying experiences too.
Take the path of self-awareness and personal growth.
Focus on the positives which can be a big transformational aspect of our life.
So, what did you learn today?
Linking this to Write Tribe Festival of Words #4 Day 1, for the theme Creativity and Inspiration!