Life Lessons from Our Dogs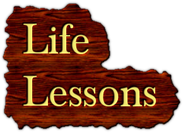 Last week, KG and his team were relaxing after the hard day's work at our farm. Suddenly, they heard loud and incessant barking of our three dogs, Copper and Carbon (Dobermans) and Nickel (Grey Mastiff). KG saw them barking and moving  around something in a circle from far. He realized that something was amiss. He rushed towards them. Seeing him come near them, Nickel ran towards KG and stopped him midway. KG tried to move ahead but our big boy wouldn't just let him take even a step further. It took a moment for KG to understand what it was all about. There was a black cobra on the farm. Soon, it was guided to move further ahead into the wilderness. This incident made us learn a very important lesson that day.
And the more we reflected on it, the more we realized that there are so many life lessons we can learn from our four-legged friends. Sharing a few of the life lessons from our dogs…
Protect your territory : A stranger /first timer on our farm has a tough time entering our premises, thanks to our three canines. They are fiercely protective. They'll fight anything to save us from any danger.
Let go and move on: Despite the reprimands our dogs get for polishing off the dinner that lay unattended for a while at the farm, or for biting / terrorizing some people … they never hold a grudge or harbour resentment. They forgive and forget easily and move on and are back to their loving self pretty soon.
Show love in big and small ways : From laying their heads on our laps when we are sitting or never leaving KG's side at night to barking wildly and jumping up and down when we meet them after a while, our dogs let us know we are loved every single day.
Be understanding : The other day, a major sandstorm caused quite a havoc at the farm. As KG and his team huddled together and waited for the storm to pass, the three of them sensed the mood and the low energy around. Without any verbal language, they understood and comforted KG and sat close to him. They know the power and importance of 'being there' for somebody.
Sizes and titles aren't everything : Copper and Carbon are siblings and are with us since they were a few months old. Nickel came on our farm just by chance. His earlier master could not take care of him, and requested KG to take him in on the farm. Carbon and Copper were babies and acted like a team in front of the old, giant and imposing sized, Nickel. But they just took a day to get acquainted with each other and learnt to live peacefully and happily together.
Be loyal and dependable : When Nickel joined us, he was sick and weak and had a big wound too. KG took great care of him and by the grace of God, Nickel recovered pretty soon.  A dog knows what and who is important in his life and sticks by them, no matter what!
Love unconditionally : Nickel drools and slobbers a lot. His saliva is so slimy that it takes some effort to wash it off. A cleanliness freak like me hates his sticky mess. How much so ever I try to thwart his attempts, he'd always greet me with his big wet (and sticky) kisses and wagging of his tail. He is never afraid to show how much he loves despite me being mean to him.
Enjoy the simple pleasures in life :  Life is fun for our dogs. They greet each day with enthusiasm and a sunny outlook. They can play with a log of wood with equal zeal as with a chew toy bought from a pet store. The way they attack food with gusto and lick their plates clean makes me wonder if we are feeding them right. A ride in the car is as fun as is the ride in the lorry truck. Taking naps and stretching is important for them. No joy is too small for them to appreciate.
Our dogs have enriched our lives, but even more so, they have taught us some of the greatest life lessons.
Linking this to Write Tribe Festival of Words #4 Day 7 for the theme Creativity and Inspiration!