The Exit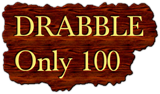 Her friends told her that marriage added colors in their lives.
It sure did, for her too. They were in shades of red, blue and black.
The mind learnt to live with rations of love and affection along with a big serving of degradation, though the heart felt trapped.
It was like that animal in a cage that was loved but had lost its freedom and self esteem.
For how long could she look the other way? Tolerance always has limits.
She decided to just walk off and kept on walking. It was her most powerful yet graceful walk ever!
Linking this to Wordy Wednesday at Blog-A-Rhythm