It Doesn't Hurt To Be Nice
Title: It Doesn't Hurt To Be Nice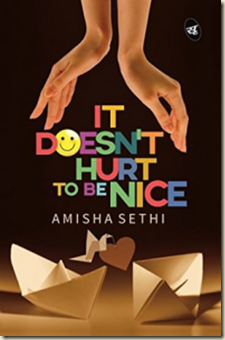 Author: Amisha Sethi
Publisher: Srishti Publishers
ISBN: 978-93-82665-48-9
Number of Pages: 130
Price [INR] : 175
Genre: Fiction
"Each experience – good or bad – is like a paper boat in this ocean called life to take us through its vastness, and while we jump from one boat to another, let's thrive to be a fearless bird that carries love and only love in its heart!"
It Doesn't Hurt To Be Nice is a story of a dynamic thirty-something girl, Kiara who has reached great heights professionally. As she moves from school to college, falls in love and gets married and moves her way up the corporate ladder and chasing her dreams, through the ups and downs of life, she finds pearls of wisdom from her experiences. The book showcases the teachings of ancient scriptures and global philosophers in the simplest form to drive home the lesson that we can be the heroine/hero of our own life, charming and beautiful inside out, like no other, perhaps a 2.0 version of ourselves.
The book is part fiction and part self help. Through each chapter, one gets to learn about lessons such as giving unconditionally, trusting others, fearing nothing, the art of detachment, being kind and thankful, kindling the light within you and mastering your thoughts. The lessons shared in the book are not something that one is not aware of, but it makes you think and reflect on them through a story. Since these life lessons are simple and are shared through Kiara's story, one can comprehend them and identify with them easily.
Usually, self help books sound a bit preachy and pushy. But the idea of sharing life lessons through an interesting story in It Doesn't Hurt To Be Nice is a neat one. I quite liked the concept of the book. The writing is simple and flows effortlessly. The illustrations though are not important but could have been better.
It Doesn't Hurt To Be Nice is short breezy read with some interesting life lessons to ponder on.
Rating : [usr 3.5 text="false" size=20]