Shamsuddin's Grave
Title: Shamsuddin's Grave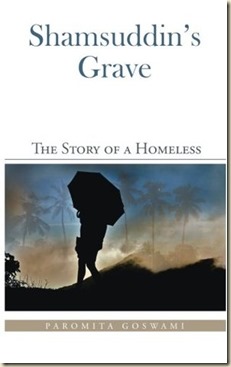 – The Story of a Homeless
Author: Paromita Goswami
Publisher: Patridge Indiahing Pvt Ltd
ISBN: 978-1-4828-4394-1
Number of Pages: 282
Price: 450 [INR]
Genre: Fiction
Latika's wrecked personal front leaves her completely shattered. So when her ailing father reveals his desire to go back home, she doesn't think twice and moves to her hometown. She joins an NGO and comes across a teenager rape victim. Much against her TL, Debjyoti's wish she sets out to trace the girl with Shamsuddin's help. Will she succeed or end up in big trouble?

Shamsuddin, a daily labourer, somehow manages to thrive in the city. Meanwhile, flood devastates his house in the village. His family takes refuge in a relative's place where his wife has a tough time resisting to the advances of her brother-in-law. Can Shamsuddin arrange for an accommodation before it is too late?

Set in Guwahati amid the backdrop of flood and ethnic turmoil, "Shamsuddin's Grave", is the story of migration towards big cities for a better life
They say the best inspiration comes from real life. Shamsuddin's Grave, a debut novel by Paromita Goswami is inspired from a real life story.
Shamsuddin, a farmer from a small village in Assam loses his land due to the yearly floods in Brahmaputra river. It was hard for him to make ends meet, so he moves to Guwahati with big dreams. But his big-city dreams are shattered by the realities of daily existence and in doing so he loses the trust of his family. As he struggles and wades through life, he comes across Snehlata who gives him shelter in her barn and Latika, who has recently moved from Delhi and is licking some old wounds. Latika works for an NGO and Shamsuddin helps her in bringing about the much needed change in the lives of underprivileged. Despite being disowned by his own family and despite the never ending struggle, Shamsuddin does not lose hope of having his own house and unite his family once again.
Shamsuddin's Grave is a powerful and an eye-opener of a story. It brings to the fore the struggles and hardships of the illegal migrants from Bangladesh. Though they have been living in India for generations, but all their lives they just work to meet the needs of their families. They do not know of the current affairs of the country and do not exist in government records.
What touched me while reading this book is that it is based on a true life story. Someone has lived through all these trials and tribulations day in and day out and yet he never got any support, not from his family and not from the government or the media. Kudos to the author for raising social awareness about the people who migrated to India before and after Indo-Bangladesh partition and took shelter in the then undivided Bengal, however their present and future is murky and uncertain, still.
The book also delves into unconditional support and true relationships, empty nest syndrome, loneliness, human trafficking, plight of illegal immigrants, floods, social divide etc.
Flawed by the gamut of human failings, the characters are real and well etched out. The writing is simple and lucid, though the scourge of typos and limp editing afflicts this book.
I believe the title of a book sets the tone of the story and creates an expectation in the reader. While the book started off with Shamsuddin and his life but soon it became Latika's story with Shamsuddin just being a secondary character. Also, there were many sub-plots that overshadowed the main story. Shamsuddin re-enters the story towards the end. So, I wondered about the aptness of the title and it somewhat dampened my reading experience.
The ending has a twist and is intense, heartrending and poignant too. Despite some minor hiccups, Shamsuddin's Grave is a worthy read.

Facebook | Website | Blog Tours | Twitter | Pinterest | Linkedin