The Calling
Title: The Calling – Unleash Your True Self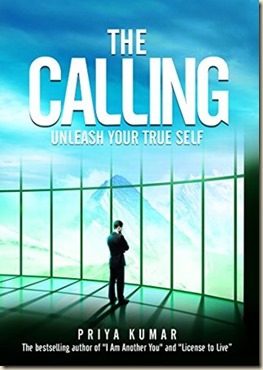 Author: Priya Kumar
Publisher: Books That Inspire
ISBN: 978-93-5258-970-8
Number of Pages: 150
Price [INR] : 299
Genre: Self Help / Motivation
Stuck in the daily grind of life… doing the same old stuff, day after day… the feeling of disillusionment, frustration and self doubt…Do these depict the story of your life? If your answer is a yes, then this book is for you!
The Calling is story of Arjun, a Marketing Head of a company who is busy chasing organizational goals but with a lot of pent-up frustration inside him. His personal life is on the rocks too with a divorce knocking his door.
A sadhu saves him from a frightening near death experience and tells him to stop running and follow the dream that he had abandoned. The sadhu tells him to unravel a purple thread tied to a tree behind the Hemkund Sahib and redeem his Karma. Overwhelmed with the accident and the sadhu's words, Arjun starts on his spiritual journey to the Hemkund Sahib. Accompanying him in this challenging expedition is porter Chandu and his donkeys. This journey is not an easy one, as at every turn the mountains holds secrets and tests that urge Arjun to evolve into the person he had denied to be – himself. Pretences, falsities, confusions and untruths fall apart as Arjun is forced to confront the mess he had created in his life.
Arjun's journey started off as an opportunity to escape reality, but it turned out to be an opportunity to escape from the dwindling spiral of self-created misery. It is a journey that transforms him forever and is the one that turns his life around too.
The Calling is a story that most of us can relate to, for most of us are corporate executives busy chasing goals, living life in the fast lane and having an unhealthy work-life balance. The Calling is a wake-up call to abandon the rat race and find the purpose of your life.
The Calling is an incredibly well written book and engaging from the very beginning. The book is a gold mine of profound philosophical thoughts and words of wisdom. These wise words and thoughts are presented in simple words and do not sound preachy at any point of time and are an inherent part of the story.
Some of the wise words that made me think and ponder on are…
When two people disagree, they both stay there. None of them go anywhere by virtue of that disagreement. And in going nowhere, they become a liability in that relationship.
Sometimes we are so annoyed with people close to us that we don't heed them at the times they are correct. We continually hold their idiosyncrasies against them and deprive ourselves of the value that they could add to our lives.
If someone occupies your space, he or she occupies it for a reason. And that reason must serve you, him or her and the world at large.
The world will change. But why did you change by becoming frustrated with the world's doing what it is supposed to do – change? Let the world change, but don't let your state of positivity change.
When I asked him how long it would take to get there, he answered, "It depends upon the purpose of your journey."
To sit in your space and your world and do nothing in it is a disgrace to the intelligence that you are bestowed with. It is a disgrace to the spiritual force that is inherent to you. Your role in the world is to take charge, to take responsibility for your role in your environment and of what happens in it.
The Calling is truly an invigorating, stimulating, and a mind-expanding read. And that it has a good deal of light humour adds to its appeal. This is a book for everyone as with its wise words, it will not only help to ponder on life and the direction in which it is going but also to look within and also to find out one's true calling in life.
The Calling is totally worth your time. Do check it out.