Dawn at Dusk
Title: Dawn at Dusk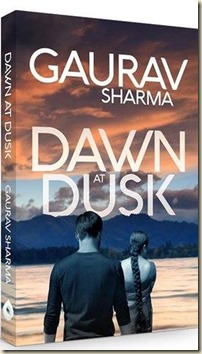 Author: Gaurav Sharma
Publisher: Petals Publishers
ISBN: 978-93-85440-30-4
Number of Pages: 184
Price [INR] : 175
Genre: Fiction
Yet to go through an ordeal, the millionaire scion Aradhaya is much cossetted only-son of Talukdars. Suddenly, his life gets upended when he loses his parents and is deceived by the girl he marries. In his attempt to overcome, he falls for Sambhavi, who is a renowned writer and professor, because he sees her as the shadow of his mother.

Sambhavi lays her condition. Aradhaya gives up too soon. Distraught, he leaves his house in search of peace and starts a life of a recluse among the people with little means and ambitions until his love for Sambhavi guides and inspires him to do something extraordinary. What does he do? What course does his life take? Does Sambhavi accept him? Let's hear Aradhaya's story…
Dawn at Dusk is Gaurav's third book, the first two being Love @ Air Force and Rapescars. I have read both these books and quite liked them. When I picked up Dawn at Dusk, my expectations were high.
Dawn at Dusk has an unconventional story of a millionaire Aradhaya who falls in love with Sambhavi, an award winning writer, social worker and lecturer. Meera, Sambhavi's adopted daughter is in love with Aradhaya as well. Sambhavi who is 13 years senior to Aradhaya, wants him to earn his love for her. To prove himself, Aradhaya takes up a project to empower and uplift the lives of people in a small hilly village. Does that help him unite with the love of his life? Well, you will have to read the book to know that.
But here's what I think of this story. I liked the plot of this unusual story. There's something novel to look forward to. The classroom conversations between Aradhaya and Sambhavi are pretty profound and give you a lot to ponder on. The discussions on spectrum of silence, the difference between love and lust, love and sex, emotions and writing are interesting and insightful. The dialogues between characters are realistic and lively and they help build the characters and advance the story smoothly.
The first part of the story which is about Aradhaya and Sambhavi's love, life and loss makes for a captivating reading. The second part which deals with Aradhaya's move to Shyamal Taal where he works on an entertainment park is a bit sluggish. It deals with the details of the development of the park and has no mention of Sambhavi or Meera. This part of the story did not impress me. Aradhaya's vision to do something for the people is a noble thought but he makes it come true with his father's money. That does not prove his worth, in fact his contribution to the project is not inspiring enough and this is when Sambhavi had told him, "Presently your identity is not your first name but your surname. The esteem that Talukdars enjoy is the fruition of your father's hard work. What have you done in life? Do you want to reap what he sowed or want to do something that would be yours and only yours attainment?" Also the ending seems to be a bit hurried.
It is interesting to see how the author's writing has evolved over a period of three books. That's awe-inspiring and truly commendable.
Pick up Dawn at Dusk for some unconventional and thought provoking reading.