Escape #AtoZChallenge @AprilA2Z
My theme for this year's Blogging from A to Z April Challenge is Crime Stories in 55 Words. Today's story, E is for Escape…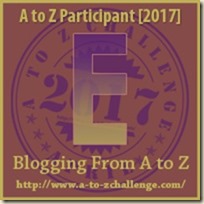 Ryan rummaged through the kitchen cabinets to find mugs.
As he poured the coffee, he saw the unspoken question in Luke's eyes.
"Relax, I've got it covered", said Ryan with his usual nonchalance.
Luke appeared skeptical.
"This house belongs to the prison chief who'll be searching for us all night", explained Ryan with a wink.
You can check out my A-Z posts thus far by clicking on a highlighted letter!
A B C D E F G H I J K L M N O P Q R S T U V W X Y Z