Word of the Year 2018 #WOTY
Hola Folks! A very happy 2018 to each one of you!
It's a brand new year today. It is an exciting time for new beginnings. It's the time when everyone is brimming with hope, positivity and optimism. It's that time of the year when we want to 'fix' ourselves. It's the time when we make resolutions and goals for ourselves.
Over the years I have seen that despite my best intentions, most of the new year resolutions are mostly forgotten by end of January while some may stretch for a few more months. And then they are forgotten completely, because life happens!
Despite poorly executed new year resolutions, I have realized that I need something to guide me… Something to help me stay focused and add more meaning in my life.
And then I came across, Word of the Year!!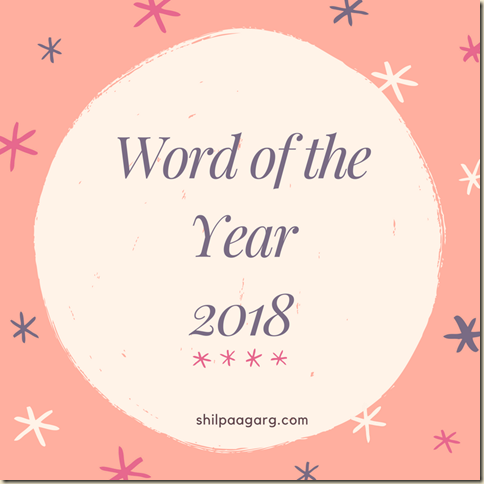 Word of the Year is a new way to approach resolutions. A simple and meaningful word is chosen. It is this word that will guide you every day and all the days of the year. It's a way to live by that chosen word intentionally and purposefully all year through.
After some thought, a light bulb went off somewhere and I had an Aha! moment. Yes,  I found a word for myself.
I have chosen the word RISE as my Word of the Year – 2018.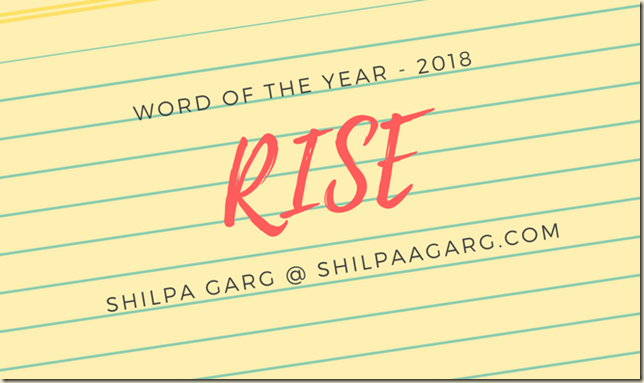 I can feel the energy in this word and that's exciting me already.
Here's what it means to me to live a year by the word RISE:
Rise and shine every morning.
Rise to the best level of myself, both personally and professionally.
Rise above the struggles and set backs and keep going.
Work on my spiritual side and let my vibrations rise.
Help my boys rise, so that they grow and succeed in their fields.
Help people around me rise to the best versions of themselves.
Rise above the petty and do not let the little things in life drive me crazy.
These are the thoughts that will be guiding and hopefully transforming me this year.  And with this I am kick-starting my new year.
Have you chosen a word of the year? Do you believe in new year resolutions or Word of the Year? Do share your thoughts!