He Brings Smiles Through a Haircut #WATWB
He visited a school for the visually challenged children and found a child with a bleeding ear. The wound had occurred when the child was given a haircut. He was deeply moved by the sight and that sparked the vision for his initiative.
Meet, Vishakhapatnam-based hairdresser G Charan Kumar who offers his professional services free of charge for disabled children, orphans, and other minors from schools and homes for the destitute.
The child in question is Hari Krishna who can never forget the day when he got his first proper haircut 12 years ago. A haircut for him had always been something else till then – where he would be made to sit and sometimes stand with his head bent; the barber would go snip, snip, snip and be done in less than a minute with a few cuts here and there that Krishna would be left to nurse later. It all changed when G Charan Kumar gave him a haircut. "My hair felt lighter and I think I looked good," says Krishna, now a teenager, in an interview which appeared in The Hindu.
Charan has come a long way since then. He now has a group called Trendz, named after his salon, with a team of 15 hairdressers from other salons in the city to give a free makeover to these special children. Charan, along with his team has given haircuts to hundreds of kids in orphanages and a few old-age homes. From fun spikes, short-crops to layered bouncy cuts, they give a complete makeover to the children and also explain to them about personal hygiene. He is now planning to host a fashion show with these children. Kids at the blind school, orphanages and even the elderly at old-age homes eagerly wait for him. Sharing that this work gives him happiness and bliss, he also encourages his customers to spend some portion of their money for social services as well.
In a world where we think help to the needy can only be given in the form of food or money, Charan proves that you can do much more than that. Offering the unique service of giving haircuts free of charge, he fills a gap that many fail to see.
Check out about Charan's initiative in a sign language news feature.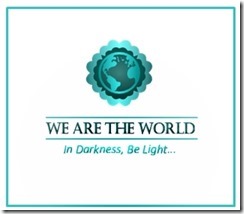 This post is part of the We Are the World Blogfest, a monthly event created by Damyanti Biswas and Belinda Witzenhausen to showcase stories of hope and light. This month I'm helping out as a co-host, along with extraordinary bloggers  Peter Nena, Eric Lahti, Roshan Radhakrishnan and Inderpreet Kaur Uppal – please hop over to check out their WATWB posts as well as from other WATWB participants for a dose of feel-good to last you a whole month. You'll be happy you did!
Click HERE to check out the intention and rules of the blogfest and feel free to sign up at any time. You are always welcome!