7 Secrets to a Stress-Free Air Travel
Most of us love traveling to step away from the daily grind. But the act of traveling to the destination can be pretty stressful. Navigating through the airports and getting on the flight can make you lose your mind. But it doesn't have to be that way. Today I am sharing some of the things that I've learned over the years, to keep your next flight truly stress-free.
1. Be Organized: Set aside some dedicated time to work on travel planning. Make a checklist of all the things that you need to do before your trip. Keep all your flight booking and travel documents, maps, guides, wallet essentials, healthcare items, entertainment items, snacks, electronic items and their chargers along with your travel essentials but remember to travel light.
2. Arrive Early: Plan to arrive at the airport 2 hours before a domestic flight or 3 hours before an international flight to avoid the stress of traffic, long queues, and unforeseen circumstances. If security makes you anxious, remember that the long lines and extensive searches ensure that we all fly safely and the inconvenience is a small price to pay for a safe flight and peace of mind.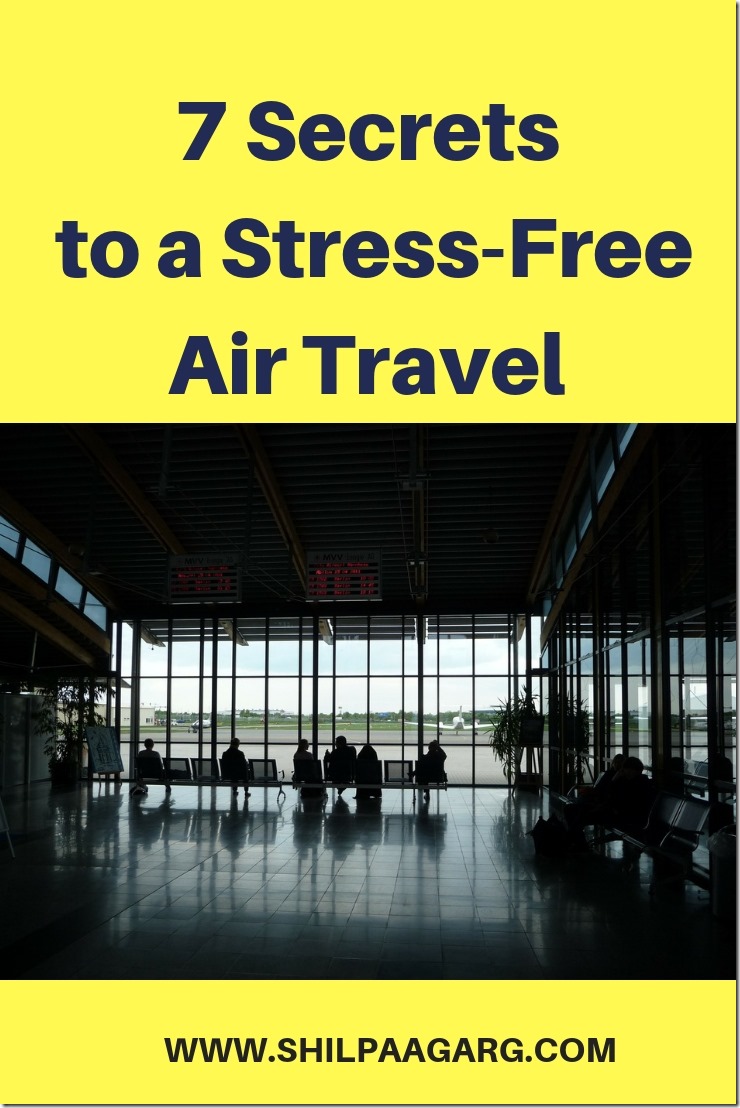 3. Never Book a Middle Seat: Yes, even if two of you are traveling together. There is usually very little leg room and an armrest that may get claimed by your co-passengers. I feel claustrophobic in the middle seat. An undesirable seat can affect your trip in a negative way so making the effort to know where you're sitting before you board the plane is pretty important. Either select the two aisle seats in the same row or a window and aisle seat; if you are lucky, you may have an empty middle seat in between you!
4. Follow All Security Protocols: Getting through the airport security is probably the most time-consuming and stressful part of the air travel process. It makes sense to be prepared well before you get in line. Know the hacks that will help sail through the security gate.
5. Relax in the Lounge: You've navigated through check-in and security successfully and now it's the time to relax in the airport lounge. I always look forward to my flights to Mumbai for I love the lounge at the airport. The lounges give you time to relax and escape from the buzz at the airport and enjoy the complimentary food, drink, internet and lounge benefits like comfy chairs, big screen TVs, magazines and newspapers. This is a perfect place to unwind and mentally prepare for the next stage of your trip.
6. Engage Yourself: Once you have boarded the flight and are comfortable in your seat, do something to keep yourself busy. I prefer to read, watch a movie, listen to music or play a game on my phone. In fact it's the best down-time, as there are no calls, no emails and you can just sit back and relax.
7. Get Some Sleep: Sleep is the best stress reliever. So catch a few winks so that you are recharged for your next step of the travel.
Do you have a tip for stress-free travel that you've found makes your vacation easier? Do share in the comment box.