15 Things To Do While On Bed Rest
"Bed rest and a large steaming mug of hot chocolate. I always find that cheers me up." JK Rowling
True, after a day's hard work, relaxing and lazing in bed with a beverage of your choice is sheer bliss. But what happens when being on the bed is not laziness but a necessity and is prescribed by the doctor. Guess, it wouldn't be so much fun.
People who are recuperating after a surgery or have pregnancy complications or have any medical illness or injury often have to stay in bed, to allow their bodies to heal. Bed rest for extended periods of time is no walk in the park. It can be irritating to be confined to bed and be dependent on others for simplest of tasks.
Last week, I fell down from the stairs and fractured my ankle bone. My leg is in a cast and am now confined to bed for at least 5-6 weeks.  Since, both the boys go to their respective works after sorting everything at home, I stay alone for major part of the day. "You must be getting bored." is something that everyone tells me. "No!", is my immediate reply. I am busier than before, as I have so much to do.
They say that you should never let the things you cannot do, prevent you from doing the things you can. Here's a list of 15 things you can do while on strict or partial bed rest and enjoy the downtime.
1. Read, Read & Read Some More
Face it – reading a book non-stop for hours is not a every day occurrence. While on bed rest, you can read to your heart's content. Pick a book that will entertain, relax or thrill you. I couldn't read much last month, so this is the perfect time for me to catch up on my reading goals. I just finished An American Marriage by Tayari Jones and have started reading a murder mystery, Journey Under the Midnight Sun by Keigo Higashino. I am also reading blog posts of fellow friends, news on inshorts and Q&As on Quora!
2. Scrawl, Scribble or Write
Being on bed rest gives you lots of time to think. If you're looking to creatively vent your thoughts, emotions, plans or observations, pick up a pen and paper or let your fingers dance on the keyboard. Start a gratitude journal or write your goals for the new year or update your bullet journal. I have noted down a few topics to write and updating my blog regularly is on my agenda.
3. Binge Watch
Now is the time when you can have complete control on the TV remote. Watch your favourite shows and movies. I am watching the recorded movies and series on Tata Sky+. Have just started watching the recorded season 7 of Orange is the New Black which was aired in July this year.
4. Chill with Netflix
Grab a bowl of popcorn or ice cream and binge watch movies and series on Netflix. I have been watching some really off beat and interesting series and movies like Unbelievable, The Silence, Evening Shadows, Article 15, Soni, Do Paise Ki Dhoop, Chaar Aane Ki Baarish, Margarita with a Straw, Badla  etc.  Of course, this will make me run out of internet data much before the month end but we will cross that bridge later.
5. Play Games
How long has it been since you've done a puzzle? Crosswords, Sudoku, and regular old jigsaw puzzles are all great ways to pass the time and stimulate your mind. Clearing levels of Word Cookies on my phone or playing Uno Flip with AG when he is free, keeps me engrossed and entertained.
6. Calm Your Mind and Body
Meditation increases calmness and physical relaxation, improves psychological balance, helps to cope with illness, and enhances overall health and well-being. Practicing breathing exercises or Reiki and chanting helps me relieve anxiety, stress, fatigue, general mood and helps me to sleep better too. Some light yoga does a world of good too.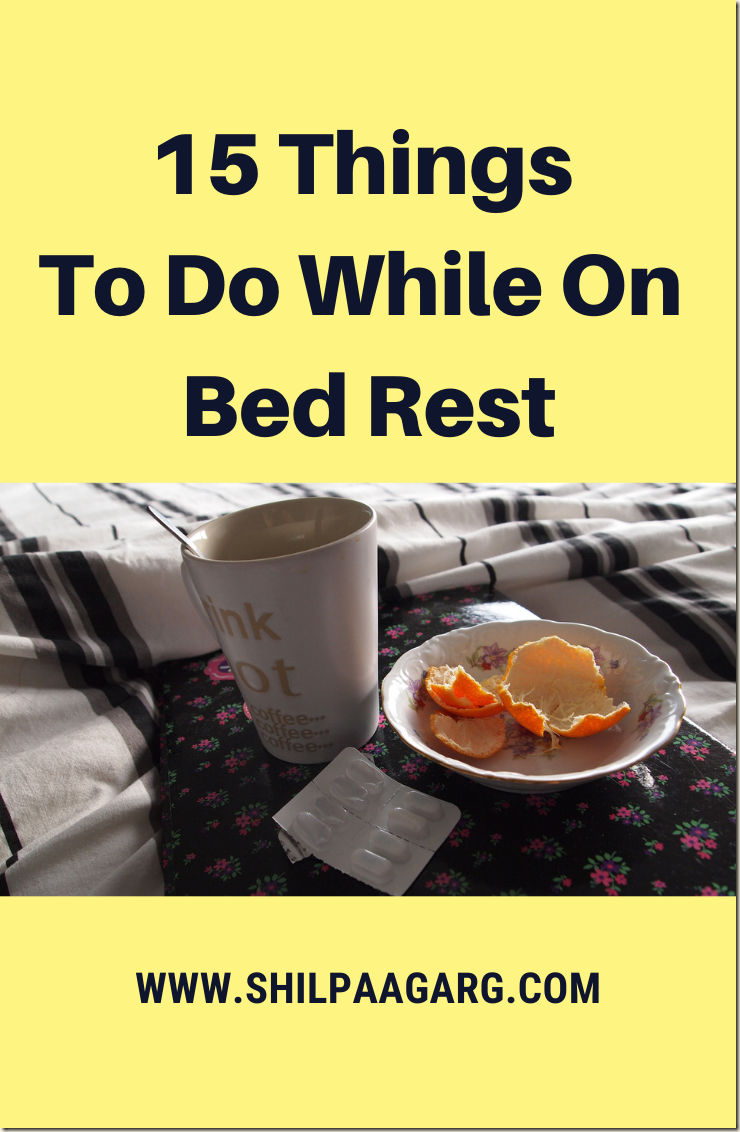 7. Earn While You Rest
If you work from home then it will be business as usual for you. A part of my work profile is working from home, so there's no break there and I am earning my bread while on the bed too. It's also a good time to follow-up with customer care of some services which make you wait forever!!
8. Engage in Retail Therapy
Retail therapy is the real medicine and can be a great mood enhancer too. Shop online to your heart's content or if you are a 'sensible' shopper like me, then just do online window shopping!
9. Fuel Your Soul with Music
A great song can lift your heart, warm the soul and make you feel good. Listen to your favorite songs and explore some new music too. After years, I have taken out my iPod and I am listening to the large collection of old classics that I have on it. It's a great way to take my mind off things and relax too.
10. Clean and Organize Your Electronic Devices
If you have OCD to organise and clean, now is a good best time to organize the files, folders, photos, emails on your laptop and phone. Just yesterday, I took the back-up of my system on the hard drive. It took quite a few hours, but I am happy with the outcome.
11. Catch Up with Friends
Get in touch with friends or  family members who you've been meaning to get in touch with but haven't. Chat or call or write emails or send handwritten notes or invite some awesome friends over!
12. Get Crafty
Tap into your artistic side, and take up knitting, crocheting, or any other craft you've wanted to try. I am waiting for a friend to get me her crochet hook and yarn and hoping to learn this needle work technique. Fingers crossed!
13. Learn Something New
There's a lot to explore and learn something new through online courses, tutorials, YouTube videos, podcasts. I am planning to learn a bit more about SEO for my blog in the coming days.
14. Create Stories in Your Head
A daily dose of daydreaming heals the heart, soothes the soul, and strengthens the imagination.  So daydream, visualize, reflect….
15. Take Naps
When everything else fails, take a nap. There's nothing that a good nap can't fix! Sleep is probably the most obvious thing to do while on bed rest. And I don't feel guilty about taking frequent naps at all hours of the day.
They say that if you stumble, make it a part of the dance. If you are confined to bed due to any reason, there is a lot you CAN do while on bed rest than you may think and enjoy the downtime.
What other things can one do while on bed rest?
Share in the comments below.