Upgrade Your Child's Winterwear Wardrobe with EORS 13
Making memories with your children that you can fondly look back on is one of the essential elements of any festive season. With Christmas right around the corner, parents are indeed looking for the best outfits for their kids. Dressing them up in clothing items that do not match their level of adorableness won't do. Wanting your child to look as stylish as possible is quite a good wish and now, is also easy to fulfil with Myntra's End of Reason Sale. Winter outfits without coats can never be complete, and that is why Myntra's kids long coats collection is the right place to shop.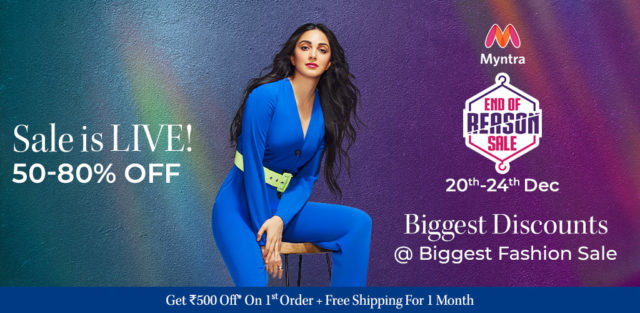 Brands like H&M, Cherry Crumble, Elle and more come together to form this lovely collection of kids long coats on Myntra-consisting of a wide variety of types and colours, these coats are the perfect choice to add to your kid's playful essence. Here are some outfit ideas that you can use for your kids winter wear for this season:
Dress your kid up in a peacoat and matching jeans with winter boots for classic winter attire. Throw in a cute beanie and some winter gloves for extra protection against the chilly winds. These coats are made of 100% polyester, a fabric that is well known for its moisture absorbing qualities. The upside of polyester is that it remains warm even when it's wet, making it perfect for children that like to play around.
Velvet overcoats are an excellent choice of coats for Christmas or new year parties. These are incredibly comfortable and look great with matching pants, a solid shirt and a cute bow tie. Add a pair of shoes to the mix, and you're ready to go.
Long trench coats look great when worn individually. Dress up your kid in one of these with shoes, knee-high socks and a matching hairband. The woollen material of trench coats will make sure your kid is warm and comfortable.
Fuzzy coats are another winter item that your child's wardrobe needs. There is no outfit more lovable than a fuzzy coat, a pair of jeans and fuzzy boots.
Made of good quality polyester and easily machine washable, these coats are perfect for both your children and you. Your kids are free to mess around as much as they'd like and you don't have to worry about cleaning it up. Myntra's End of Reason Sale, which is now live, is the perfect place to go winter shopping for the upgrade your child's wardrobe needs.
Myntra works to only deliver the best to its customers, which is why it is trusted by many for all kinds of shopping. Myntra's End of Reason Sale brings for you endless offers and discounts on your favourite brands. The sale is now live, and you don't have to wait anymore for exclusive deals that you get the most benefits out of.
So, what's stopping you? Go ahead and start shopping for your faves now!