Aim For Faster Hair Growth In 2023 With ThriveCo's Hair Growth Serum
Are you battling with incessant hair fall? Are your tresses losing their luster and falling out faster than a winter snowfall? Do you worry about your hair's quality diminishing daily and fear balding in the future? If so, then I have been there too. Transitioning from long healthy locks to thinning strands was a nightmare. It's never easy witnessing changes in your appearance that you didn't want or expect, especially your hair! I tried numerous hair growth serums, hair regrowth treatments, changed my diet, and did yoga, but nothing worked out for me. 
My search for help ended when I had a bottle of premium quality – ThriveCo's Hair Growth Serum in hand, prescribed by none other than my friend, a trichologist himself! From restoring lost hair health, texture, and strength to tackling itching scalp- this miracle product solved all problems quickly. But initially, I needed to be more confident about this hair serum for hair growth because I had tried various hair growth serums, but all of them turned out futile. As my friend suggested this product to me, I wanted to try it (I am happy I did).
This blog post will share my experience of using an effective serum designed for hair growth. By providing detailed information on how it worked and why it could be beneficial for others, you too will have all the knowledge necessary to help you decide if trying this hair growth serum would be worth your time and money.
ThriveCo Hair Growth Serum – Product Details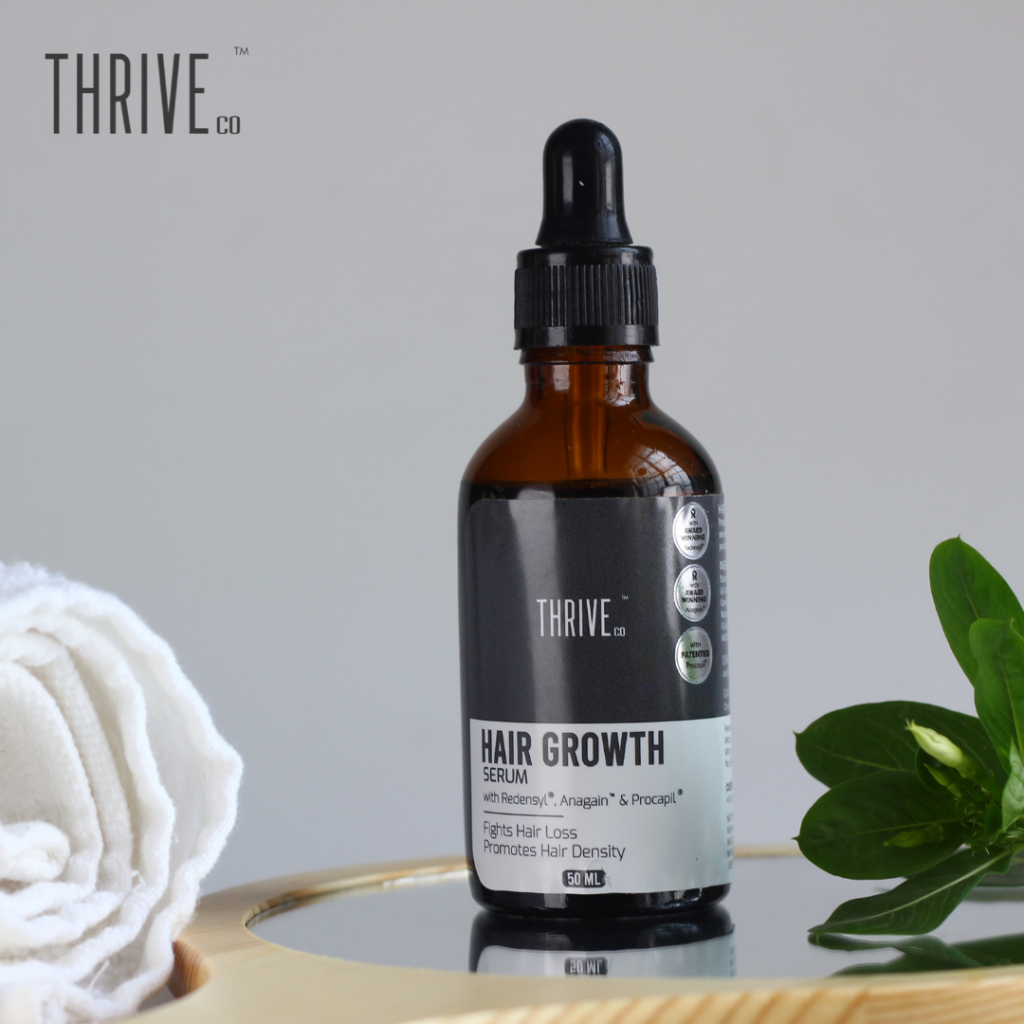 ThriveCo Hair Growth Serum comes in sturdy packing. The serum is available in a see-through dark amber-colored bottle with a dropper (for easy dispensation). The main feature of this hair regrowth treatment is active hair growth ingredients such as Redensyl, Anagain and, Procapil, Capilia Longa, which activate the inactive stem cells, stimulate hair follicles, rebalance the hair life cycle, fight hair loss, thus promoting hair health. For added haircare benefits, this hair serum for hair growth is infused with Sodium Hyaluronate and Pentavitin.
With the record-breaking success stories, this hair regrowth serum is killing the game, which added to my curiosity, and I finally decided to try this product. As per the manufacturers, this hair regrowth serum contains advanced hair growth promoters which work at the cellular level targeting the  inactive stem cells, improving scalp health, and promoting fast hair growth.
The serum comes in off-white with a thin, watery consistency. It has got a subtle fragrance that will not irritate your senses.
My Experience With ThriveCo Hair Growth Serum 
I started using this revolutionary hair growth serum in early November. I would apply the product on the problem areas of my scalp and wherever my hair growth is scanty. The dropper is very helpful in dispensing the required amount of serum directly on the scalp. I massage the serum into my scalp for 2-5 minutes for better absorption. Leave it overnight, and the next morning wash it off with ThriveCo's Hair Vitalizing Shampoo to help the hair grow fast.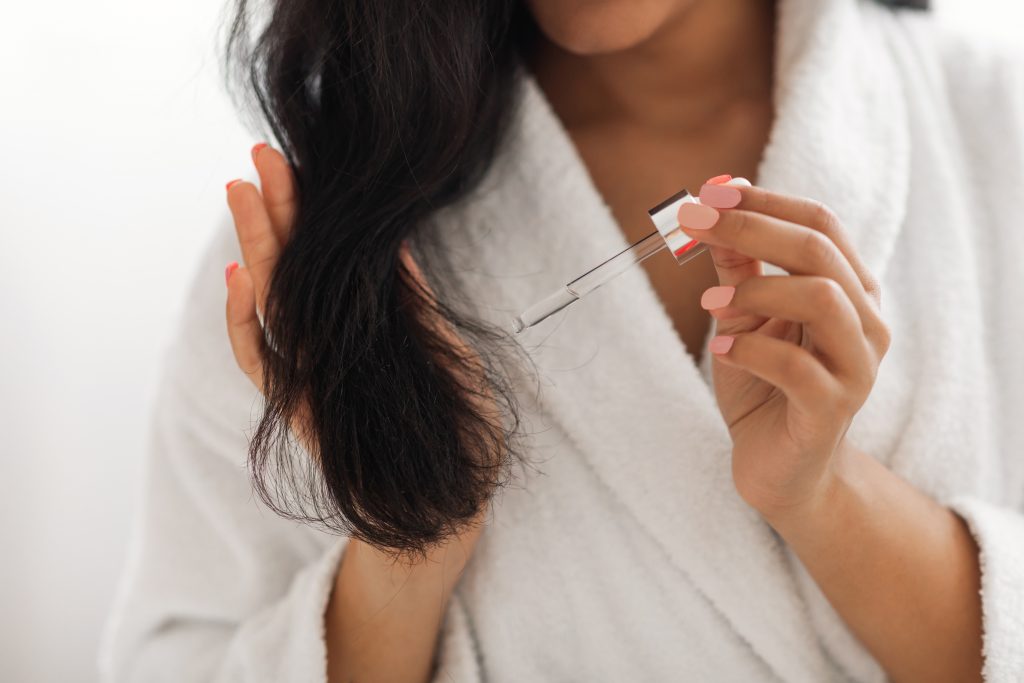 After applying the hair serum for one week, I could feel the change in the texture of my hair. It had become much softer and smoother. After two weeks, my dry, rough hair looks conditioned, hydrated, and frizz-free. My scalp health is also improving as the itchiness of the scalp is almost gone—no more urge to scratch the scalp. 
After five weeks of application, I noticed that my hair fall had reduced. I saw less hair on my pillowcase, comb, and bathroom drain. I could quickly run my hand through my hair without a single hair coming out in my hair; I was delighted to see the results. But my hair fall hasn't stopped entirely, and I could not see any new hair growth. But till now, the results have been satisfactory. I could feel my thin, lame hair become thick and dense. My head looks fuller, with thick, bouncy hair.
After eight weeks of using this product, it has improved my scalp health. My scalp looks healthy, hydrated, and well-nourished. 
After 12 weeks of using this hair growth serum, the texture of my hair has improved drastically, with added volume and bounce. And voila, there is baby hair growing along the hairline. My scalp is less visible now, which means hair growth is taking place. I purchased another bottle and will continue using this hair regrowth serum to protect my hair from damage and promote faster hair growth. Now I have conquered my hair fall issue.
Now I have a healthy head full of happy hair. All in all: within just three months of using this product, there have been significant improvements regarding texture, appearance & overall health of my hair and scalp. Now that glowing locks are worth celebrating! If you are still struggling with haircare issues, try ThriveCo's Hair Growth Serum and aim for faster hair growth in 2023..!