Friday's 55 Fiction : The Battle of Words
55 Fiction is a form of micro-fiction that refers to the works of fiction limited to a maximum of fifty-five words.

The Battle of Words
They sat huddled together on their table in the café. Amidst rounds of tea, flowed the varied ideas and thoughts, plots and strategies.
Their animated conversations invited stares from the groups at other tables.
But nothing could deter or intimidate them.
They were the 8-member team of The Wordsworth Legion preparing for the battle ahead.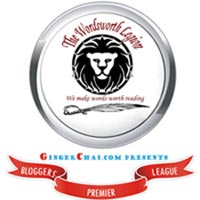 Three Cheers for The Wordsworth Legion Team of Hitesh, Kshitij, Pujitha, Rahul, Smitha, Tavish, Vinita and Me!! And of course, Parth too!
The Wordsworth Legion is a part of 6 teams in the first edition of BPL (Bloggers Premier League) contest @ Cafe Ginger Chai.