My Beloved's MBA Plans
Title : My Beloved's MBA Plans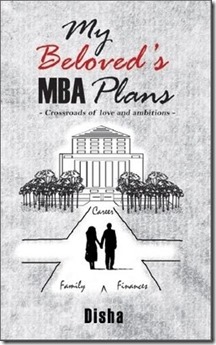 Author : Disha
Publisher : Srishti Publishers & Distributors
ISBN : 978-93-80349-98-5
Number of Pages : 110
Price [INR] : 100
Genre: Fiction
From the Blurb of the Book :
My Beloved's MBA Plans is a collection of engaging stories with a common thread running through all of them – How much are you willing to give to fulfil your MBA dream? Would you be willing to give up a cushy job and start from scratch? Would you be willing to stay apart from your spouse? Would you be willing to uproot your family from a well-settled life?
Read on to discover how Vivek's MBA course turns out to be quite an adventurous journey with his wife Divya and their two kids. For Arpita, it is a second chance at love. Payal and Nitin make the campus their home while Geet faces a tragic loss. Join Suraj and Priya as they break away from the family business to carve out a path for themselves and discover how Rahul and Dimple spend an unusual honeymoon.
These are just a few stories from this colorful collection set against the backdrop of life on campus and aspirations for an MBA degree. The book is a ride through different shades of life and experiences. Whether you are single or married, this book is an absolute must read for anyone who wishes to take an unconventional decision in life.
Review : Disha, the author of this book is an IIM-Calcutta alumnus. She interviewed 15 couples in person or via Skype and shared their stories. The 16 stories in My Beloved's MBA Plans talk about the commitment towards the dream of doing MBA from a prestigious institution and the support of their family members especially their spouses.
Each story is different but they all leave you inspired and give you that warm and happy feeling. In each story, people have left their comfortable and well paying jobs or businesses to pursue their dream of doing MBA from a Top B School in the country. The book shares their dilemmas, the hardships and how the love, sacrifices and support from their spouses helped them conquer all odds and helped them emerge victorious and successful.
The book has 110 pages and each story runs in about 6-10 pages which I finished reading at one go. However, it would have been better if the book was written in a short stories format instead of the interview format.
A nice breezy read which inspires and may help you take that first step towards your dream too!
Rating : 3/5