English Bites!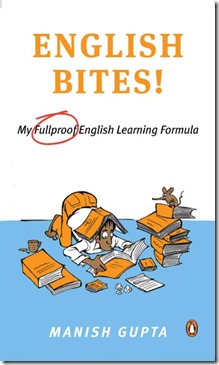 Title : English Bites!
Author : Manish Gupta
Publisher : Penguin
ISBN : 978-0-143-41900-6
Number of Pages : 334
Price [INR] : 250
Genre: Non-Fiction Self Help
Review : Is the English language your biggest nightmare? Are you looking for a fool proof English learning formula. Then, English Bites! is the book for you!
English Bites! is the author's own journey with the English language. The book charts his struggles and success with English, right from his school days to college and then later to his work life as a banker. In a very interesting manner with illustrations and anecdotes, humour and wit, the book acts as a learning guide for English.
What I liked about the book is that there are footnotes explaining the meaning of the words, their origin and interesting trivia on each page. So, one is not referring to a dictionary or leafing through the supplementary material at the end of a book, frequently. Though initially, it was tough reading an interesting anecdote in the first half of the page and then reading the second half of the page which had meanings, usage and some fun facts about difficult words. But as the book progressed, I enjoyed the process of reading the story and learning new words or validating my knowledge, simultaneously.
'Pls do read the book slowly….a chapter or two at a time', suggested the author in one of the mails that we exchanged and I followed it religiously. And this helped to soak and absorb the new words and their meanings better. There are over 1000 new words to add to our vocabulary.
The first half of the book deals with Manish's initial journey as he explored the various tips and tricks like mnemonics, limericks, rhymes, alliterations, and trivia to learn and remember words and their usage. It also throws light on various word plays in English language like Amphibology(ambiguous grammatical usage) isograms (words in which no letter of the alphabet appears more than once), lipograms (words containing a particular letter have been deliberately omitted), palindromes (a word, phrase that reads the same backward or forward), oxymoron (a figure of speech in which incongruous or seemingly contradictory terms appear side by side), homophones (words that sound the same but have different spellings/meanings) etc.
The focal point in the second half of the book is general knowledge with trivia that spans areas like brand names, automobiles, fine dining, love, money, banks, science and B-school jargon.
While the first half is more engaging and has a conversational tone, the second half is a bit formal and is more of a matter of fact writing.
English Bites! is a big fat book of knowledge and learning. I believe a 200 page book would make it a breezy read, though.
English Bites! is a must read for all CAT, XAT, GRE, GMAT aspirants and all those who love examining the vagaries and idiosyncrasies of the English language.
English Bites! is not a one time read but something that I would like to read and refer to, from time to time.
Rating : 4.5/5
Linking this post to the Ultimate Blog Challenge and October's NaBloPoMo.