Spine Poetry – 9

The concept of book spine poetry appeared in 1993 with Nina Katchadourian's Sorted Books project. Katchadourian began collecting interesting titles and arranging them in clusters so the spines could be read like a sentence(s) or poem.
Katchadourian's Sorted Book Project manages to become more than an experiment in medium. Her playful photographed poems are sometimes cleverly arranged jokes or amusing images, but at other times, they are short and stunning thoughts on the nature of art and artists. You can see all the series at her website.
I came across this image which explains Spine Poetry so well…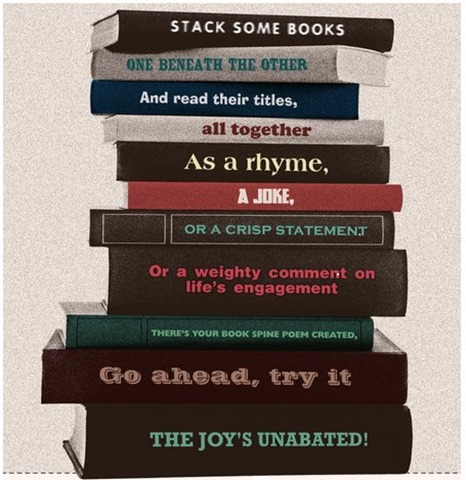 Ok, here's my today's Spine Poetry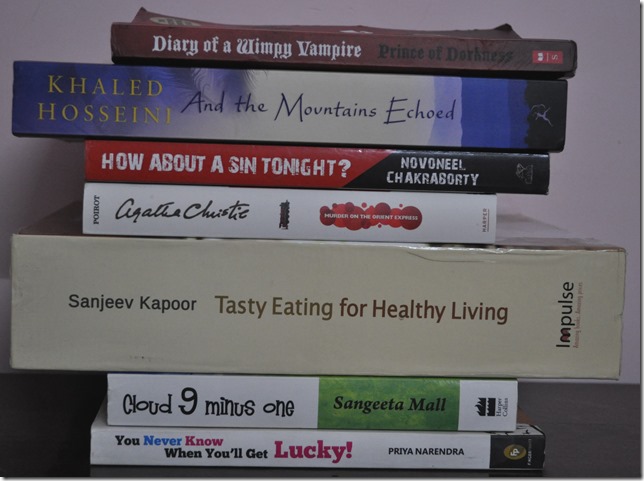 Diary of a Wimpy Vampire
And the Mountains Echoed
How about a Sin Tonight?
Murder on the Orient Express
Tasty Eating for Healthy Living
Cloud 9 minus One
You Never Know When You'll Get Lucky!
Linking this post to the Ultimate Blog Challenge and October's NaBloPoMo.