My Reasons to Pray from A to Z
I am a prayer person. I truly believe in the power of a prayer. Prayer is my medium of communication with God. Sometimes, I pray to prepare for the challenges of life, and sometimes, I hear God speaking to me, through my prayers… I pray for a lot of reasons… here are my reasons to pray from A to Z…
Allegiance
I have immense faith in the powers of the God.
Blessings
Prayer binds me to God.  When I pray, I am inviting God's blessings into my life. My prayers are for seeking blessings in general, for God knows best what is best for me.
Comfort
And that gives me a lot of comfort and confidence.
Dialogue
My prayers are like a dialogue or a conversation with God.
Endurance
I pray because prayers give me the courage to face difficulties or challenges.
Forgiveness
I pray to ask God for forgiveness for the sins and to cleanse me from all unrighteousness
Guidance
God guides me in prayer to take the right path and to find strength during difficult circumstances.
Healing
A prayer to God heals, when my loved ones are sick -physically or emotionally.
Inner Peace
When my mind races and obsesses, when I'm worried and anxious, a prayer to my God puts peace in my heart.
Joy
A prayer helps me to feel joy when I experience God's love within myself…
Kindness
or through the kindness of others.
Love
I feel God's love, His compassion, His encouragement through prayers.
Merciful
As a human, I do so many wrongs and regret later, an earnest prayer to God and I know I'll be forgiven, for God's mercy is unlimited.
Needs
I pray to God for my various needs. Although these prayers are not magic bullets, they do help me, nonetheless in dealing with temptations, fears and doubts, or other threats to my peace of mind.
Omniscience
As I am aware of my limitations, I can rest in the knowledge that God is omniscient. Availing myself of God's counsel is a blessing of prayer
Protection
A prayer is like a proven shield of protection from all harms of soul, mind and body, available from God all the time.
Quiet
I pray to hear and feel the gentle presence of God around me.
Relationship
A prayer strengthens my relationship with God, it nourishes my relationship with God which is so illuminating.
Safety Net
A prayer to me is a safety net that helps stabilize my mind and body. It gives me hope when I feel inadequate.
Thanks
I also pray to praise and thank God because of his great kindness and mercy. I thank God through my prayers for all his blessings that he has showered in me and my loved ones!
Understanding
Through prayer I am able to understand things that confuses or perplexes me.
Vibes
When I pray, I experience good vibes and that helps me to generate a positive state of reality around me.
Wisdom
God imparts His wisdom and understanding through prayer.
Xtra Power
God is all powerful. Powerful to heal, powerful to save, powerful in every sense of the word! And prayers help me see, experience His powers, it helps me to plug into the extra power of God.
Yes or Not Yet

As I pray, my trust in God allows Him the latitude

to answer however He deems best, which could be Yes or Not Yet!

Zen
I experience Zen when I pray.
While I believe in the magic and powers of prayers, I am a bit rustic when it comes to celebrating festivals with traditional rituals.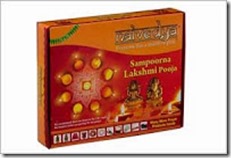 I came across Sampoorna Lakshmi Pooja Pack  which is a pack containing everything that one would need to perform the Lakshmi Pooja on Diwali in a traditional way. This pack contains all basic materials required for the pooja as mentioned in the Skanda Purana. The booklet (script in 6 languages) and audio CD have the procedure, necessary shlokas and Shree Vinayak Ashtottarashata Naamaavali for performing the pooja. This pack comes with instructional booklet & CD, with options to recite the shlokas along with the CD if you wish. The set itself has everything I would need in one package –  agarbathies, camphor, kumkumam, aabharanam, gandha tablets, rangoli powders and stencils, deepam and sambrani among 20 essential ingredients for the puja. The pack also has Ganga-jal and idols of Lord Ganesha and Lakshmi Devi.
This Diwali, the Lakshmi Pooja at our home will be simple and effortless yet traditional with this pooja pack.
This post is part of a contest by Cycle Pure Agarbathies.
Linking this post to the Ultimate Blog Challenge and October's NaBloPoMo.