Reunion
We two were never best of friends. I tried my best to forge a good relationship with her but after seeing my prowess, she decided to stay away from me. I could almost see disgust on her face. I also gave up after a while, after all who wants to be in a relationship that isn't working out. During school days, we were forced to be together and just tolerated each other and that was only because of the intervention of my younger sister and sometimes mommy.
Once school was over, we dropped each other like hot potatoes.
Though she wasn't a part of my life, I always admired her from far, her beauty… her creative ways mesmerized and enthralled me, always. I was very happy for people who befriended her and admired the relationship they shared.
After ignoring her and pretending that she didn't exist for me, for so long, somehow, somewhere, deep down I believed that our relationship wasn't supposed to end like this!
But I didn't make any attempts to welcome her in my life till I saw something at Kathy's Blog.
In case you are wondering about my lost friend, well, it's the beautiful, just unique, visually interesting or surprising/pleasing to the senses, the creative craft or simply put the Art.
I had never seen or heard about a Zentangle till Kathy shared about it on her blog. And then I saw Shilpa Sharma creating so many Zentangles on her blog too. I have so many creative and crafty blogs in my Reader and I see so many wonderful pictures on Facebook, but nothing moved or inspired me ever as this novel art of Zentangles. I read up all about Zentangles and even pinned some images on Pinterest.
For the uninitiated, a Zentangle is an easy-to-learn, relaxing, and fun way to create beautiful images by drawing structured patterns. A website mentions some 24 uses/benefits of Zentangling! 24… can you believe that?? They say Zentangling helps in Relaxation, Insomnia (Improved sleep by creating a Zentangle before bedtime), Inspiration, Create beautiful works of art, Nurture and develop creative abilities, Relieve stress, Improve eye/hand coordination, Develop/rehabilitate fine motor skills, Anger management,Increase attention span and ability to concentrate, Brainstorming, Problem Solving, Design inspiration etc.
The designs people make with Zentangles is simply awe-inspiring but somehow I was not overwhelmed by their creative excellence and I tried my hands at this art form yesterday and I loved doing it. It's nowhere near the wonderful patterns I have seen on the internet but I am so glad that I attempted to do something new and different.
And am so happy that I met a long lost friend again. And I am inspired to explore more patterns and designs.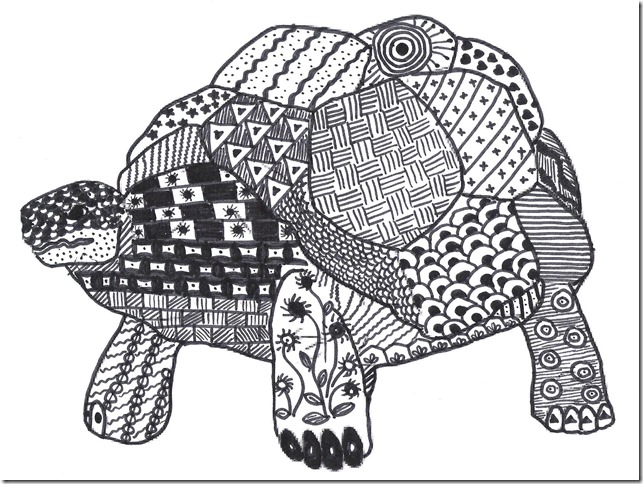 Thank you Kathy and Shilpa… This is for you both… Thank you for inspiring ♥