Unsettled
Title: Unsettled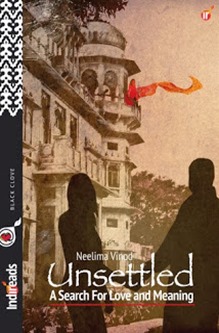 Author: Neelima Vinod
Publisher: Indireads Inc.
ISBN: 978-1-927826-07-2
Number of Pages: 70
Price [INR] : 175
Genre: Fiction (Love, Romance and Supernatural)
Type : e-book
Divya and Raghav's married life is on the rocks. The couple hadn't said the D word yet. But Divya was afraid that he'd say the D-word and her efforts to fix the marriage would go down the drain. Through her friend, she meets Dr Ray, a well known psychiatrist.
Dr Ray asks Divya to bring Raghav along with her in the next visit. He then convinces the couple to go on a quest in Divya's ancestral village Cherakad, to get the ancient Scrolls of Love. These scrolls were in a large abandoned haunted house, which is believed to be possessed by a Yakshi. Will they get what they set out for? Will they be safe from the charms of the female predator? And what happens to their relationship? You will have to check out the book to know that!
Unsettled has a fascinating plot which weaves the contemporary and the supernatural element in an unusual story. The characters are real and believable and story unfolds at a perfect pace. Unsettled is a novella, which I finished reading at one go.
While the ancient story of Shankara and Thathri, the Yakshi has been well narrated, I believe Divya and Raghav's story needed a bit more coverage. The end is a bit predictable and abrupt too. The language used in the book is a bit flowery.
Unsettled with its captivating ingredients of the supernatural forces, the contemporary Indian couple with their marital woes, along with the folklores and true love keeps the reader glued till the very end.
Overall, Unsettled is a well written and a pleasant read.
Rating : 3.5/5